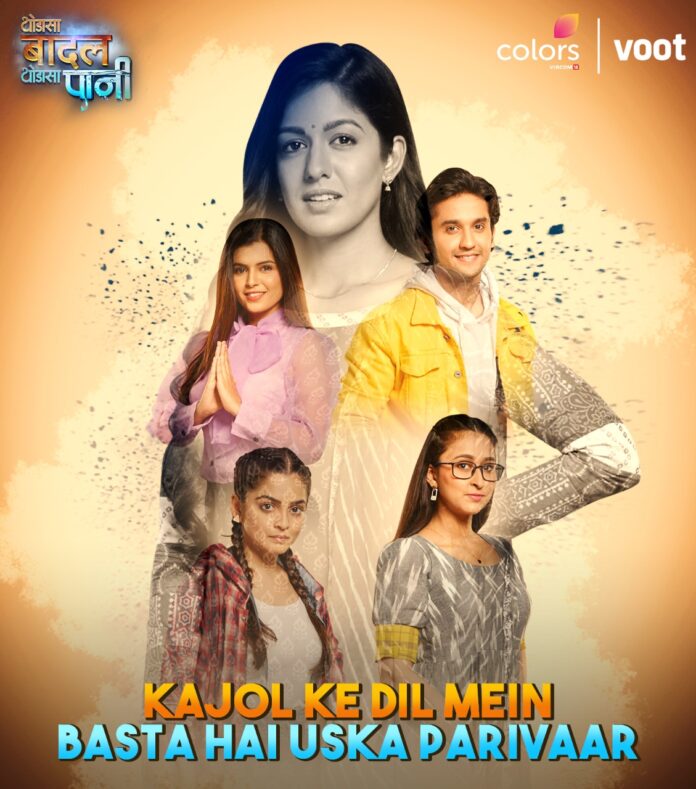 Thoda Sa Baadal Thoda Sa Paani 22nd September 2021 Written Update on SerialGossip.in
The episode starts with Arjun telling Rajesh is in shock that is why he is blaming us. Rajesh tells Arjun to ask his father how he talked with Bishu when Bishu requested to give him some time to arrange money for the car. Kajol tells but Bishu told me that Arjun's father agreed to his request of not giving the car. Rajesh tells he did not want to burden you. Kaushik tells he told many times that there is no need to give any gifts. Arjun's mother tells we have so much money why would we pressurize Mukherjee Babu to give us a car?
Rajesh tells Bishu had to take a loan to fulfil his promise. Rajesh tells Kajol about the night Bishu was robbed. Kaushik tells Rajesh to stop fabricating stories. Anurag tells Rajesh is telling the truth and he is an eye witness to that incident and he is silent because Mukherjee Babu told him not to tell about the robbery to his daughter. Shyam asks if the money got stolen how did Bishu buy the car? Rajesh tells Bishu kept Printing Press as Mortgage.
Shyam tells how could Bishu keep the press built from his blood and sweat as mortgage. Thakur Maa tells because nothing was more for him than his prestige and promise. Kajol slaps Arjun and tells she can never marry her father's murderer. Kajol tells Arjun and his family to leave her house. Kajol tells Rajesh to take the keys of car from them. Anurag tells Shyam they will need death certificate at the time of funeral.
Kajol starts weeping and tells Bishu not to leave her alone. Flashback shows little Kajol playing with Bishu and everyone cries on Bishu's last rites. Chandana is sitting schocked in a corner, Thakur Maa requests her to watch Bishu one last time. Shyam,Rajesh and Apu come forward to give shoulder to Bishu. Panditji asks who will be the fourth guy? Anurag comes forward and gives his shoulder.
Chandana starts weeping not to take Bishu away. Apu does the final rites of his father. People start talking that Bishu borrowed a lot of money and he would have returned it but now who will return their money? Kajol tells her mother not to cry. Chandana tells Kajol not to call her mother and she blames Kajol for Bishu's death. Shyam tells Kajol to come home. Kajol requests him to leave her alone for sometime.
Kajol starts weeping and tells Bishu why did he leave her,now she is alone in this world. Anurag comes near Kajol and tells her today she took a very brave decision by breaking her marriage so he knows she will manage something in future too. Anurag tells pain can make us either weak or strong and now it is your choice to be weak or strong. Anurag offers Kajol to drop her home but Kajol tells from here she will choose her path alone.
Click to read