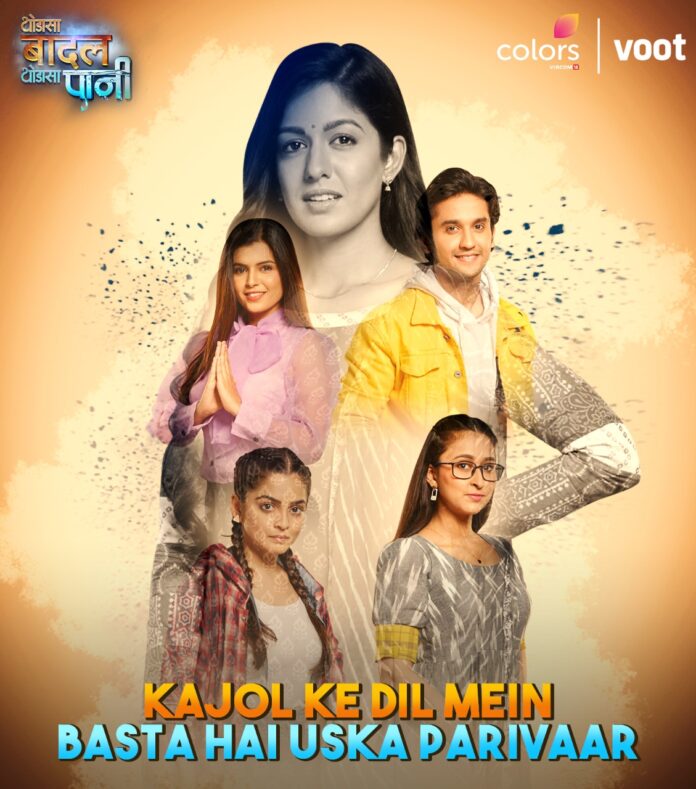 Thoda Sa Baadal Thoda Sa Paani 28th September 2021 Written Update on SerialGossip.in
The episode starts with Kajol bringing tea for her mother. Kajol apologizes to her mother and tells her and she was wrong in recognizing Arjun. Kajol tells Arjun made her feel that he likes her simplicity. Kajol tells she talked with Arjun about the car and he suggested to talk with her father. Arjun tells Naina he feel devastated. Naina tells Arjun if he wents we can talk somewhere else. Arjun thinks his plan is gettiing successful.
Kajol tells Chandana she made mistake in understanding Arjun. Chandana tells Kajol your father loved you even more than me but I never felt bad because you were the laxmi of our house. Chandana tells Kajol now you are breaking the relation which your father died trying saving. Kajol tells she can never marry Arjun. Chandana tells she will never be able to forgive Kajol. Arjun acts emotional in front of Naina and tells him how he cared for Kajol and really loved her. Naina thinks Kajol does not deserve a guy like Arjun.
Kajol tells Chandana she cannot marry Arjun. Naina tells Kajol wanted the car for herself but she blamed you for the car. Naina tells Kajol is manipulative and she knew the more she denies her father the more he will try to buy the car for her. Arjun tells Kajol blamed him and now he cannot concentrate on work or anything. Naina apologizes to Arjun for Kajol's behaviour. Arjun tells he is feeling good after talking to her. Arjun asks Naina if he can call her when he feels lonely? Naina tells it would be her pleasure. Shreya tries to call Arjun but he doesn't receive her call.
Arjun thinks now he will show his true face to Kajol. Shreya calls Arjun and tells let us talk now Ayan is not at home. Arjun cuts her phone telling he is working on a new project. Arjun thinks Naina is his new project. Thakur Maa tells Chandana not to force Kajol to marry Arjun and understand her decision.
Anurag's aunt tells that Kajol broke the marriage. Anurag tells Kajol should have done this a long time ago. Anurag's aunt tells him to meet Kajol and asks how is she. She tells him you wanted to know about your mother maybe you will find out about her by talking with Kajol as she was her student.
Anurag thinks about Kajol slapping Arjun and gets glad that Kajol realized the truth and broke the marriage. Anurag tells it is better to stay alone than to marry a wrong guy. Anurag starts wondering about Kajol. Some people gather at Kajol's house and start demanding their money. They insult Shyam and tell does he knows anything other than singing,how will he return their money. Kajol steps up and defends her father. The episode ends with Kajol telling she will take her father's responsibility and return the money.
Click to read