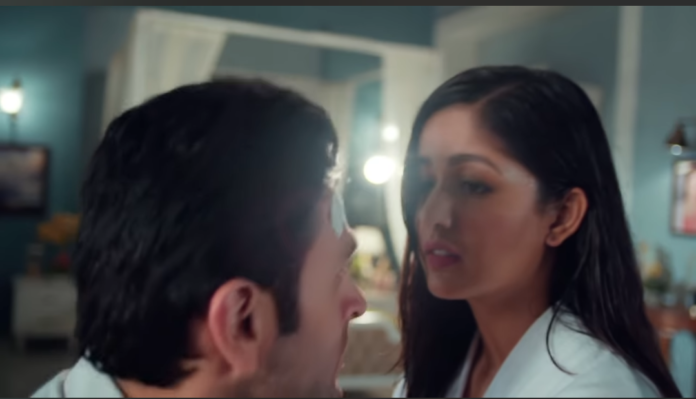 Thoda Sa Badal Thoda Sa Paani Spoilers, Upcoming Story, Latest Gossip , Future Story, Latest News and Upcoming Twist on SerialGossip.in
Colors TV show Thoda Sa Badal Thoda Sa Paani is the story of a girl's struggle in her life. The story is about how Kajol,who tries to keep everyone happy finds her happiness. Anurag came into Kajol's life and wished to give her everything she deserved but Priyanka blackmails Anurag to marry her if he wants to keep Kajol safe. Will Kajol find out Anurag's sacrifice? Will Priyanka be successful in her plan? Will Anurag find a way out of this blackmail? Will Naina make a position for herself in her in-law's house?
Kajol is glad that everyone was happy today and missed her father. Bolti told Arjun to understand her situation and support her. Arjun told her that Apu is not a good guy for her. Bolti tried to convince Arjun to support her but he didn't. Arjun found Naina eavesdropping from behind the door. Naina told she just came to check on Bolti. Naina told Bolti she will talk with Apu on her behalf.
Shreya thought no matter what Naina does she will kick her out of the house like she did with Kajol. Kajol woke up at night and found someone in the house,Kajol followed the shadow to find Apu leaving on his bike. Apu told Kajol he will explain everything to her later but he has to go now. Apu sneaked into Bolti's house to meet her but gets caught. Arjun and Kaushik insulted Apu and told him to leave before they called the police.
Apu told he loves Bolti and he just came to check on her. Naina brought Apu home and told everyone about him sneaking into her house. Shreya told Bolti to wait for the right time and take the right step. Kajol asked Apu if his love his one sided? Apu told her Bolti is equally serious and they want to marry. Chandana scolded Apu.
Keep checking this space for latest updates on your favorite shows.