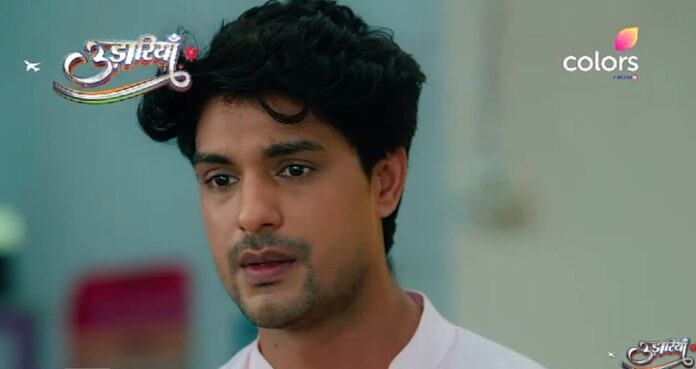 Udaariyaan 30th July 2022 Written Update on SerialGossip.in
The episode starts with Fateh and Tejo entering the Virks' house holding hands. Virks and Sandhus give them a grant welcome. Tejo meets everyone in the family. Mayi says that the house is brightened with her arrival and requests her to never leave the house. Tejo and Fateh dance. Virks cheers for them. Family joins them in dance. Tejo's dress hook gets opened. Tejo notifies Fateh about it. Fateh covers Tejo merging her back to his chest. He takes her apart and closes the hook. He seees Jasmine entering the house with Lovely and Harman. He thinks of telling Tejo Jasmine's truth.
Jasmine meets Gurpreet and asks if she's not upset with her arrival. Gurpreet denies. She says that Jasmine has rights to move on in her life, but being Amrik's wife she can visit the Virks house whenever she wants. Simran says that Gurpreet dreams of grandchild ever since she has learned about Jasmine's pregnancy. She says that Jasmine didn't want to give birth to her child with a father, so she… Satti interrupts Simran and says that so Jasmine wanted to get remarried and she also met a guy. Satti says that a baby needs both father and mother's love. Tejo gets happy and wants to talk about it to Jasmine and meet that guy. Satti says to wait till Jasmine herself tells her this. Jasmine is making mocking faces to Fateh. The latter angrily looks on at Jasmine.
Fateh drags Jasmine apart and asks why she has come despite his warning. He says that he knows that Jasmine can do anything to Tejp, so he will expose her before that. Jasmine says that she won't do anything to Tejo and has come only to take part in their happiness. Fateh refuses to believe her. He says that it's necessary to expose her truth to Tejo. Simran notices Fateh and Jasmine talking standing in a corner. She comes to them and ask if everything is fine. Fateh says that nothing can be fine where Jasmine is. Fateh is about to say what Jasmine did with Tejo.
Jasmine prevents him pretending to faint. Gurpreet gets worried about Jasmine and takes from there. Simran says to Fateh that she knows that he had a past with Jasmine, but now everything has changed, Jasmine is going to get married and shift to Canada. She asks him to be patient as it's only matter of few days. Just then Buzzo comes to Simran and asks where Candy is. Simran remembers the mysterious caller and panics. All looks for Candy in the whole house.
Fateh finds Candy outside the house. Hebis sitting near the jeep and having chocolate. All comes out. Buzzo hugs Candy and asks where he has gone. Candy says that someone gave him lot of chocolate in a basket. Buzzo throws it way. The mysterious caller phones Simran and says that Candy is at the house only and threatens to not tell anyone about him. Here Tejo says to Candy to not accept anything from a stranger.
Simran hugs Candy crying. She shouts at him for going out alone. Family stops Simran. Candy cries. So Fateh takes him apart to cheer him up. Tejo comes to the room and finds Fateh playing with Candy. Tejo join them. Candy gets tired and says that he is hungry. Tejo goes to get milkshake for him. Nimmo stops Tejo. Nimmo says that Fateh likes kids and wonders if one day he will have his one child or he has to play with nephew all his life. She asks Tejo to give a good news soon. Tejo gets emotional. Satti comes to Tejo. She says though Nimmo's words are bitter, she is right. She asks Tejo to forget her past and starts her marriage life with Fateh and form a family. Tejo says that she will think about it, but for now she has to handle herself. She hugs Satti. Fateh hears this.
Tejo and Fateh come to their room and findsbit decorated. Fateh apologizes to Tejo and says that Mahi must have done it. Tejo says that she needs some time. Fateh says her to take her as much time she wants. Fateh says that he will remove the decorations while she will change clothes. Tejo says Fateh to let it be as Mahi decorated the room whole heartedly. Later Fateh goes to sleep on the couch. Tejo asks him to sleep on the bed stating she has full strength on him. Fateh suggests playing video game to release stress. Tejo agrees.
Tejo and Fateh play video game and have fun. Tejo gets happy when she wins. Tejo thanks Fateh for understanding. They go sleep. They both are awake unable to sleep. Tejo recalls Satti's words. Fateh remembers tying Tejo's duppata around his wtist and does the same.
The episode ends.
Click to read