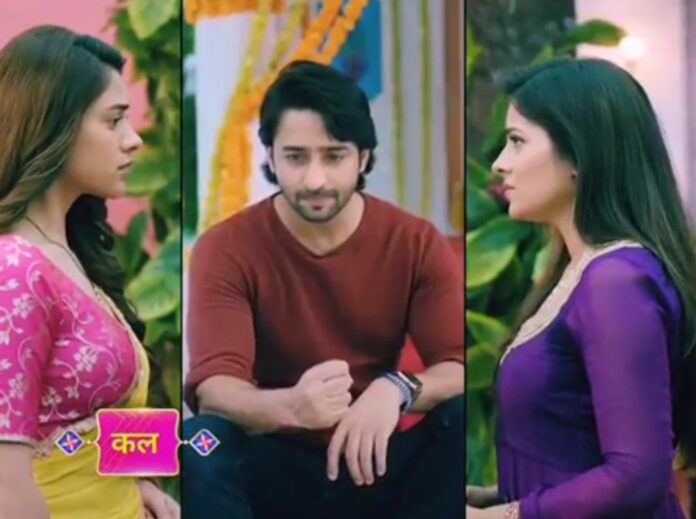 Wo Toh Hai Albela Spoilers, Upcoming Story, Latest Gossip , Future Story, Latest News and Upcoming Twist on SerialGossip.in
Star Bharat's popular show Wo Toh Hai Albela starring Shaheer Sheikh and Hiba Nawab currently focuses onStar Bharat's newly launched popular show Wo Toh Hai Albela starring Shaheer Sheikh and Hiba Nawab currently focuses on Sayuri and Kanha's separation due to Anjali. Earlier its seen that Anjali mocked Sayuri's family. Now it will be seen that Nakul will expose Anjali's game plan.
Previously we have seen that, Both Sayuri and Kanha were in pain when Anjali came to Sayuri's House. She insulted them and blamed Sayuri for coming between Kanha and her.
Family members cheered for Sayuri and Kanha's love but Anjali challenged them that she would get married to Kanha. She even hurt Rashmi when Sayuri came there.
Anjali asked Sayuri to attend her wedding with Kanha participating in all the rituals. Once she left Kanha came home with Sayuri's words still reeling in his mind. He wanted to confront Sayuri but stopped himself.
Nakul asked him about what happened when Kanha told that someone made Sayuri believe that she was responsible for his separation with Anjali and also made her believe that she's reason Chiru died. Dhanraj looked accusing at Saroj.
In the future episodes we will witness, Indrani will angrily say Sayuri that Anjali will take away her husband and her family from her. Nakul will make Kanha understand that the suicide drama by Anjali is all a plan and explains it to him. Anjali will hear it. Sayuri will say Dadi that she can't be with Kanha.
Will Saroj gets Kanha and Anjali married? Will Kanha win back Sayuri? Will Anjali harm Sayuri for Kanha?
All these questions will be answered in the upcoming episodes.
Keep watching Wo Toh Hai Albela from Monday to Friday at 9 pm only on Star Bharat and anytime anywhere on Disney plus Hot Star.