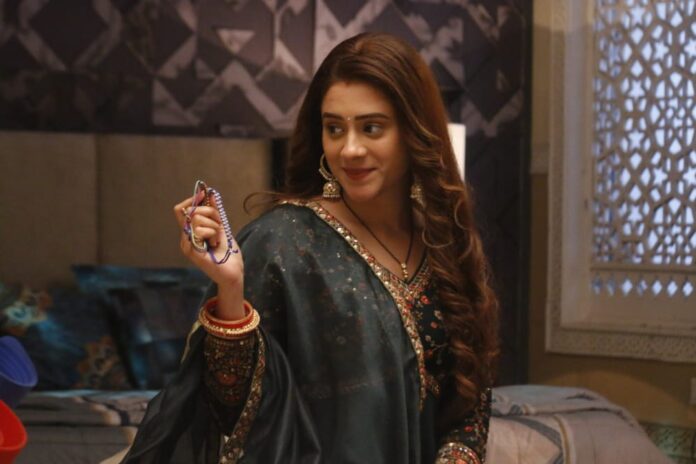 Wo Toh Hai Albela Spoilers, Upcoming Story, Latest Gossip , Future Story, Latest News and Upcoming Twist on SerialGossip.in
Star Bharat's newly launched popular show Wo Toh Hai Albela starring Shaheer Sheikh and Hiba Nawab currently focuses on Sayuri's struggle in Kanha's House and Kanha's support for Sayuri. Earlier its seen that Kanha asked Sayuri to go to job for work but Saroj was against it. Now it will be seen that Sayuri will dance with Kanha in the party.
Previously we have seen that, Saroj asked Kanha to remove Chaudhary surname from Sayuri's name if he wanted her to go to job. Kanha stood up for Sayuri who needed to earn and support for her family. Saroj taunted Sayuri's family and stood firm in her decision. Kanha continued arguing but Sayuri stopped him and agreed to Saroj's demand.
Kanha confronted Sayuri about it who told that she was just holding the plan for the while and would definitely go to Job once Saroj's anger cooled down a bit. Kanha invited Sayuri for the party and Sayuri agreed to come. Kusum heard it and informed it to Saroj who decided to stop Sayuri.
Anjali was excited to mee Kanha in the party and asked her father to hide about his arrival for time being. Her father tried making her understand that Kanha was someone's husband but Anjali doesn't agree. She planned to get ready beautifully for the party to woo Kanha.
Kanha called Nakul with them for party. Nakul refused at first but later agreed. Saroj pretended like fainting due to dehydration and told that she was worried to make the offerings. Kanha asked her to rest while Sayuri stepped forward to make it. Saroj agreed to let her in kitchen for her own benefit.
In the future episodes we will witness,. Saroj will ask Sayuri to not come between Anjali and Kanha's relationship and will ask her to not go to the party with Kanha . Sayuri will go to the party with Kanha and they both will dance.
Will Saroj accept Sayuri? Will Kanha and Sayuri gets closer? Will Anjali separate Sayuri and Kanha?
All these questions will be answered in the upcoming episodes.
Keep watching Wo Toh Hai Albela from Monday to Friday at 9 pm only on Star Bharat and anytime anywhere on Disney plus Hot Star.