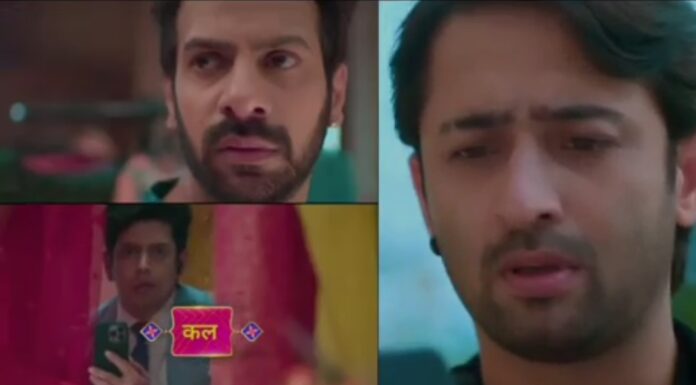 Woh Toh Hai Albela Spoilers, Upcoming Story, Latest Gossip , Future Story, Latest News and Upcoming Twist on SerialGossip.in
Star Bharat's popular show Woh Toh hai Albela starring Shaheer Sheikh and Hiba Nawab currently focuses on Rashmi's evilness and Sayuri's act to protect her baby.
Previously we have seen that, Vikranth forbid Sayuri from going outside till the wedding is done. Yash followed Vikranth with Kanha connected through video call. They found Vikranth asking Boutique person to send a lady tailor to house to get Sayuri's measurements.
Vikranth noticed hidden Yash through mirror. Kanha and Yash sighed in relief when Vikranth missed to notice Yash. Yash suggested to replace the tailor girl to meet Sayuri. Rashmi believed that it's Sanchi and not Sayuri and went on to promise Saroj that sge would find a prospective bride for Kanha.
A lady in hijab was sent from Boutique and Kanha replaced her when Vikranth is diverted. Kanha fell down by mistake and his face was revealed to Sayuri. Vikranth approached him whose face is on the other hand side.
However Sayuri helped Kanha cover his face before Vikranth could see him. Vikranth's left as Sayuri's baby was unwell. Kanha was about to say something when Sayuri stopped him and continued ranting about the wedding confusing him.
She didn't even let him take off his hijab. Vikranth was watching all of it in car and suddenly noticed the tailor wearing gents shoes. He rushed back home and Yash who was following him got shocked.
In the future episodes we will witness, Kanha will be taking Sayuri's measurements when Vikranth will come there. Yash will be worried why Kanha isn't picking his call. Vikrsnt will come home and asks why she's wearing gents shoe. However Kanha will again escape from getting caught.
Will Sayuri's baby gets saved from Vikranth? Will Kanha and Sayuri gets reunited?
Will Rashmi gets exposed?
All these questions will be answered in the upcoming episodes.
Stay tuned for more space.