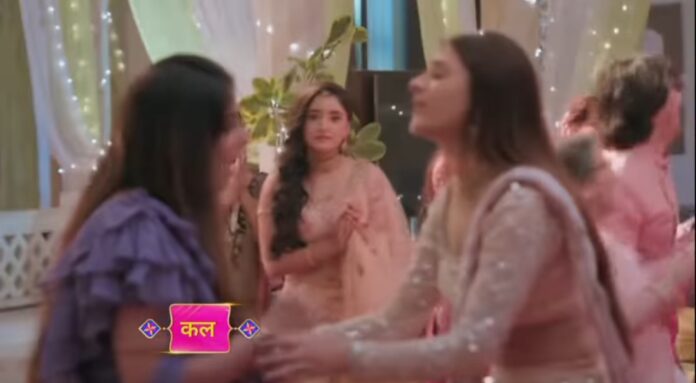 Woh Toh Hai Albela Spoilers, Upcoming Story, Latest Gossip , Future Story, Latest News and Upcoming Twist on SerialGossip.in
Star Bharat's popular show Woh Toh hai Albela starring Shaheer Sheikh and Hiba Nawab currently focuses on Rashmi and Nakul's wedding along with Kusum and Yash marriage.
Previously we have seen that, Rashmi took a stand for herself and blamed Sayuri's for a all the mess. Saroj recalled Pandit's words about Rashmi. Saroj wanted to stop the wedding of Rashmi and Nakul but Dadi Mausi said Saroj that they need grand children for the house and so she shouldn't stop the wedding as she's her last hope.
Rashmi swore to ruin Sayuri's happiness. Sayuri woke up startled at night and found her mehendi ruined. She felt that something bad is about to happen. Yash revealed to the family that his family doesn't know about Kusum's past. Kusum wanted Yash to say the truth in order to proceed with the wedding.
Yash promised that he would. Rashmi decided to make use of the situation. Yash's mother and grandmother come to the wedding and everyone happily danced and enjoy. Rashmi revealed to Dadi about Kusum's past and that Kanha was a murderer shocking Dadi.
Dadi wanted to stop the wedding but Yash stood firm in his decision to marry Kusum. Dadi and Yash's mother disowned him. Kidnappers entered the place to kidnap Nakul.
Rashmi – Nakul and Kusum – Yash exchanged garlands when Nakul went to washroom. Kidnappers followed them but got spotted by Kanha who came in search of Nakul.
In the future episodes we will witness, Kanha will try to catch the kidnappers when they will inject something to Kanha. Kidnappers will be about to take Kanha in the box when Sayuri will stop them and question them that where they are taking the box. They will get scared.
Will Kanha gets saved? Will Kusum gets married to Yash? Will Rashmi change for good?
All these questions will be answered in the upcoming episodes.
Stay tuned for more space.