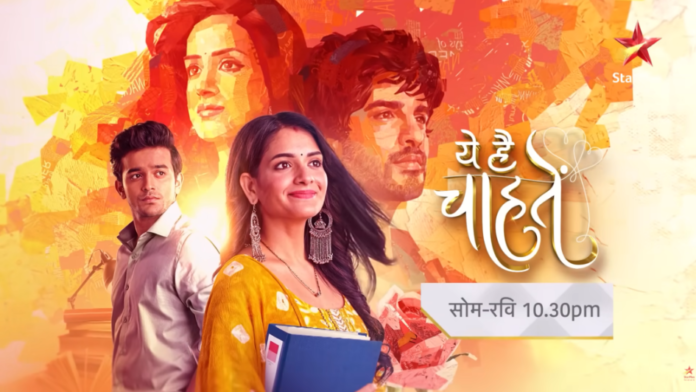 Yeh Hai Chahatein 12th November 2023 Written Update on SerialGossip.in
Episode begins with Kaashvi tells Dadi that she know the pain of losing the child that's why she came to this city after 5 years. She says that now her mission is over so they can leave because she don't want to see anyone from her past. She tells driver to drive the car.
On the other hand, Karun enters the mobile shop and thinks that he has give lastest smartphone to Mahima to get her love. He recalls that how Mahima told him to steal the phone from shop if Arjun refused to buy him phone then. He asks shop owner to show latest smartphone. He shows the credit card which Mahima gave him. He steals the phone and runs from there. Shop owner chases Karun. Arjun searches Karun.
Dadi tells driver to stop the car. She tells Kaashvi that she has to buy few things for Diwali puja. She asks Kaashvi to enjoy the life instead of just working. She hope that Kaashvi finds someone who brings her happiness in her life. She get off the car and leaves from there.
Karun runs without noticing the truck. Kaashvi sees this and runs towards Karun. Karun sees the truck and screams mother. Kaashvi saves him ( Title song plays in the background ). She asks him that if he is fine. She wonders why she feel like he is her loved one. He loses her consciousness. She thinks that her child be like this if her child was alive then. She asks Karun that what happened to him. One man tells Kaashvi that seems like Karun lost his consciousness in fear.
Romila asks Mahima that how can the latter eat cookies when Karun run away from the house. Mahima tells her that she is behind this. Romila asks her that what will happen if Arjun get to know the truth. Mahima tells her that she is fooling everyone from the last 5 years. She receives a courier. She learns that Karun's school application got rejected. She tells Romila that she would have become friend to super rich moms if Karun joined that school then.
She also learns that Arjun cleared civil service exam and he has to go for training. Romila tells her that this is good news. Mahima tells her that she can't tell others that Arjun left business and become civil service officer. Romila tells her that Arjun can take bribe and earn lot of money.
Arjun learns that one kid was about to meet with an accident but his mother saved him. In the car, Kaashvi splashes water on Karun's face. She asks him to open his eyes. Karun takes the phone box and pretends like fainting. Shop owner comes there and tells Kaashvi everything. Kaashvi realises Karun's acting.
Episode ends.
Precap – Kaashvi brings Karun to her home. She calls Arjun.