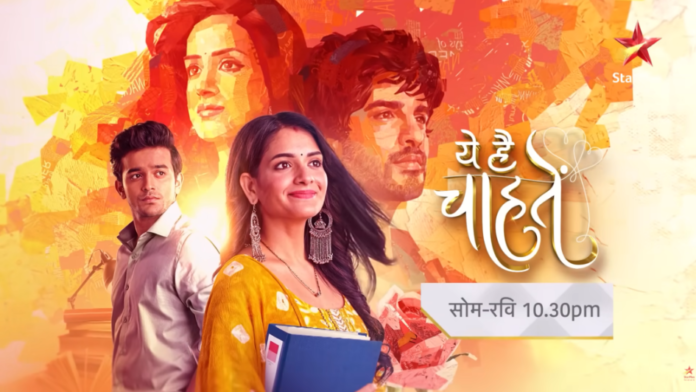 Yeh Hai Chahatein 13th September 2023 Written Update on SerialGossip.in
Episode begins with Jagdeesh tells Dadi that her plan worked. Dadi praises bijli. They leaves from there. Kaashvi applies paint on Arjun's body and face. Nitya comes there and tells them that her guests has been arrived. She asks them to get ready fast and leaves from there. She introduces her guests to Jagdeesh. Jagdeesh says that they celebrates Lord Krishna's birthday on Krishna Janmashtami. He narrates the story of Lord Krishna and Radha's love story. Arjun waits for Kaashvi in the stage. He wonders that where is Kaashvi.
Meanwhile, Kaashvi hears bijli's noise from store room. She opens the room and goes inside. She pick bijli up and asks bijli to not get scared. Someone locks the door from outside. Kaashvi realises that door has been locked from outside. She wonders that who locked it and she screams for help.
Arjun says that Radha still love to make him wait and she must be getting ready so he will bring her and leaves the stage. Kids dances on the stage. Nitya wonders that why Arjun and Kaashvi are not starting their dance performance. She realises that something is fishy. Everyone searches Kaashvi. Dadi asks Mahima that if the latter saw Kaashvi. Mahima tells her that she is coming from her room. She recalls that how she locked Kaashvi in the store room. She tells them that maybe Kaashvi left for office.
Arjun tells her that Kaashvi won't go anywhere without informing him. He says that he will find Kaashvi. Romila tells him that he can't roam in this get up so she will find Kaashvi. She recalls that how she locked bijli in the store room. She praises Mahima's plan. Mahima tells her that now Kaashvi can't perform with Arjun. Kaashvi tells herself that she don't even have her phone with her. She notices window.
Nitya asks Arjun that what happened. Arjun tells her that Kaashvi is missing. Nitya says that Kaashvi become irresponsible. Mahima says that they searched everywhere but Kaashvi is not in the house. Nitya asks that who will dance with Arjun now. Mahima tells her that she can dance with Arjun if they don't have any problem then. Romila says that it's best idea. Arjun says that no need of that. Nitya tells him that she don't want get insulted in front of her guests so he has to dance with Mahima.
Dadi asks Mahima that if the latter is behind Kaashvi's disappearance. Mahima asks her to stop blaming her always. She tells her that she has to get ready. Dadi leaves from there. Mahima recalls that how she told Monty to bring Radha's outfit. She tells Romila that she will become Arjun's Radha.
Episode ends.
Precap – Arjun dance with Mahima. Kaashvi helps bijli to escape from the store room. Bijli goes to Arjun and barks at him.