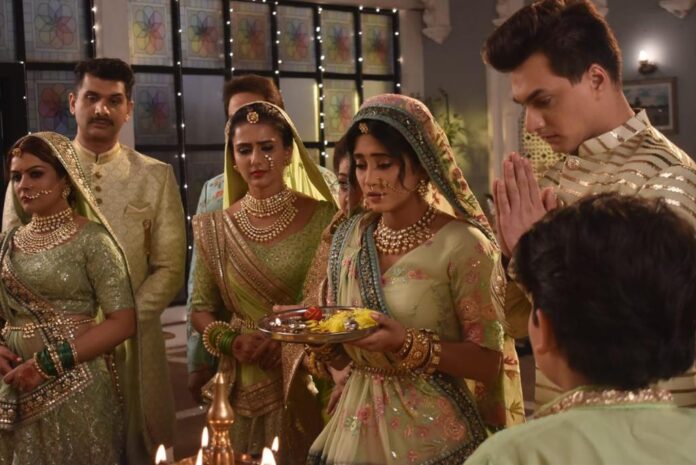 Yeh Rishta Kya Kehlata Hai Spoilers, Upcoming Story, Latest Gossip , Future Story, Latest News and Upcoming Twist on SerialGossip.in
Show Yeh Rishta Kya Kehlata Hai is gearing up for high voltage drama. Kartik will learn about Sirat's pregnancy. He will share with Goenkas and will think why latter hide the truth from all. Surekha will instigate Kartik and will say maybe because of championship Sirat is planning bad about the unborn. Kartik and others will stand shocked. In the meantime, Sirat will cry thinking if her love for Kairav and Akshu will fade, post giving birth to her own child.

How kartik and Sirat will handle this situation will be interesting to watch. Do Kartik will help Sirat to overcome her fear, well time will only tell.
So far it is seen, Sirat recall Surekha sharing her worry with Swarna that what will happen when Sirat own child will come to the world. She says she is clueless how Kairav and Akshu will react. Back to reality; Sirat says to Kartik that his voice is unreachable. Kartik asks Sirat to focus on her boxing. Doctor come and says to Sirat that she forgot her reports. Kartik asks Sirat about the report. Sirat says everyone's medical test happened before playing the Internationals.
Kartik asks sirat to reach home fast. Sirat think because of her own child if she will turn step-mother for Kairav and Akshu.
Kartik come back home. He decide to say good night to Kairav. Sirat come. He talk about his friend and tell about his wife miscarriage. Kartik asks Sirat to talk with his wife once. He adds his friend was saying his family is complete.
Kartik says he feel blessed in his family he has Kairav, Akshu and a good wife like Sirat.
He says his family is complete. Sirat says Kartik doesn't want the third child.

Follow us for more spoiler, TV news and updates