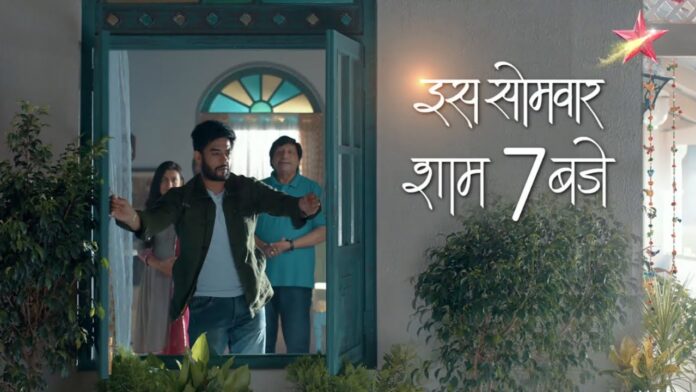 Zindagi Mere Ghar Aana 10th September 2021 Written Update On SerialGossip.in
The episode starts with Amrita and Soniya discussing about Pritam. Amrita doubts that Pritam has some connection with he girl's murder. Soniya says that he can't be a killer. Amrita says that Pritam always shout at people and he's really dangerous. Soniya says that he wouldn't have got scared if he was cold blood murderer. Amrita says that Pritam beat a man in the hospital… Nimmo cuts Amrita and tells her to get the file to go to the hospital. Soniya tells Amrita to not stress and leaves. Nimmo gets worried and asks what happened. Amrita says that she was reading the girl's murder case. Nimmo scolds Soniya for giving the newspaper to Amrita and tells Amrita to read good news during pregnancy.
Aapa is reading Quran on her deceased husband's death anniversary. Krishnakant and his family are standing along with her. Naveen isn't interested and wants to go. He tries to leave as soon as Aapa finishes reading Quran. Krishnakant asks him where he's going like this. Meera also scolds Naveen. Naveen passes a disrespectful comment about Aapa's husband, which angers Krishnakant. He slaps Naveen and scolds him. Meera calms Krishnakant down and tells him to go to the tomb of Aapa's husband. Naveen says that he doesn't like all this and leaves getting angry. Krishnakant falls back holding his chest. Family gets worried. Meera calls out Naveen. He comes back. Meera tells to call the doctor. Aapa suggests taking Krishnakant to the nearby hospital. Meera agrees.
Amrita sees Pritam's friends and follows them. They go to Pritam's room from the back side. Amrita fails to see it and wonders where they went. Nimmo and Gurmeet take Amrita from there. Pritam is worried recalling Amrita and Santo's words. Pritam friends come there. Pritam asks why they have come here, he told them to stay away from him. He scolds them saying that anyone could have seen them. His friend shows the newspaper and says that police got him on the CCTV footage and police will find him. Another asks if he hasn't killed her. Pritam warns him. Just then Angad knocks on the door. Pritam opens the door. Angad says that he heard some voices and asks who are with him. Pritam says that his friends came to meet him. Angad asks how they entered in, the main door is closed from inside. Pritam says that they have come long before. Pritam asks if his friend can't come to meet him. Angad says that he was just curious. Angad gets a call and goes apart to talk. Angad gets a job offer and is asked to join the next day. Angad gets happy and leaves. Pritam tells his friend that he will solve this problem by himself and tells his friends to leave now.
Gurmeet, Nimmo and Amrita get shocked when Krishnakant is brought to the hospital. Gurmeet asks what happened to Aapa. Aapa tries to answer him, but Krishnakant coughs. Aap takes Krishnakant inside. Amrita asks Diviya what happened. Diviya says that Krishnakant got sudden chest pain. She leaves. Nimmo stops Gurmeet from going to check on Krishnakant. Meera comes there and she sees Amrita and her in-laws. She greets Amrita and leaves.
Pritam friends meet Pritam and shows police's poster with Pritam's photo. They say that police published the poster everywhere and ask Pritam to not come out for a while, if he gets caught, all their plan will be ruined. They see a police man coming in bike and try to move away. The police stops his bike and call them. Pritam friends tell him to run. Pritam refuses. He wears the mask and turns around.
Meera finds her family sad and cheers them up. Just then doctor brings Krishnakant and says that he's fine, but needs to take few more tests for more clarity. Amrita sends Nimmo to see if doctor has come. Amrita tells Gurmeet to go and see how Krishnakant is. He tells to handle Nimmo. He thanks her and leaves. Nimmo comes back and says that doctor will come soon. She asks where Gurmeet is. Amrita hesitates to answer. Nimmo understands that he went to see Krishnakant and leaves. Amrita hopes that Nimmo doesn't create any scene. Police asks Pritam to remove his mask. He obeys. Police says that his face looks familiar. Pritam gets tensed.
The episode ends.
Precap: A man talks arrogantly with Amrita. Meera slaps that man supporting Amrita.