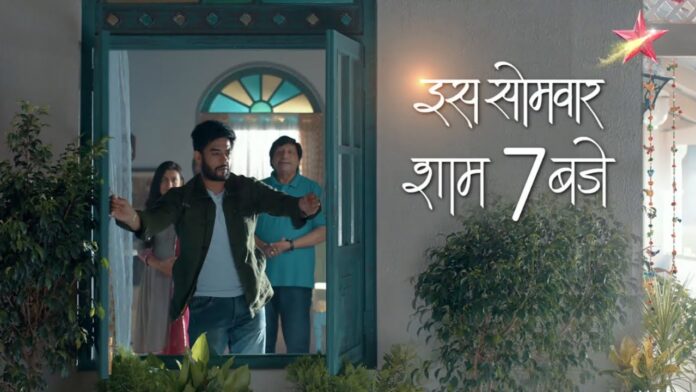 Zindagi Mere Ghar Aana 14th October 2021 Written Update on SerialGossip.in
The episode starts with Meera asking her brother that if he's taking into drugs. Naveen tries avoiding but Meera forces him. She try to pacify him. Naveen acts frustrated and insults Meera for opening up her frustration to her due to her broken relationship with Angad. Meera tries trues to slap him but he leaves pushing her. Meera gets angry. Amrita brings juice for Dadaji and Beeji. She tries to lift their mood by encouraging them to make videos but they are still upset. She asks the reason for it. They say that life is testing them a lot and their children are suffering so much.
They feel useless to not able to he'll them. Amrita asks them not to think so but they doesn't get convinced. They asks Meera about the job that the hospital was ready to offer in the place of the Karan. Dadaji says that he's ready to do the job and Beeji agrees. Meera gets angry at him and scolds him and Beeji for thinking like that. She assures that they will handle everything and gives them hope.
Pritam is feeling sleepless excited for the next day. On the other hand, Amrita is sleepless worried about his family. Pritam is singing birthday song in the middle of the night. Amrita wonders why he's singing birthday song at this time. Pritam is happily explaining about the stuffs when Amrita wonders for whose birthday he's so excited and gets doubtful if it's his birthday. Pritam calls Nitin and Nitin asks why he called at the time. Pritam pleads him to act like his son so that he can practice how to speak in front of him. Nitin acts like his son Rahul while he pours his heart out to him.
However his trance gets broken with the mention of Rahul's mother. Pritam shouts at him and cuts the call. Amrita wonders why he's suddenly shouting. Nitin calls Pritam and apologize for upsetting him. He asks him to not get nervous and asks him to be patience. Amrita thinks despite having so many problems for herself why would she worry about Pritam. She speaks with Karan's photo and says that they tolerated much and not anymore. She decides to take up the job offered instead of Karan's.
Next day, Amrita visits a Doctor and requests for the job offered to her in the place of Karan. He says that the job offer is still there but asks is it possible with her condition. Amrita says that she decided to take up the offer after baby's birth but situation forced her to. She asks is it possible to get a job as she doesn't have medical background. He says that she will get job in administration department as she's qualified for it. Amrita thanks him and he assures to fast forward the paper work. Meera looks at Kabir's seat and her friend asks if she misses Kabir too. Meera denies but her friend says she does and asks her to speak with Boss to give a chance to Kabir.
Meera scolds her and says he cheated Boss. She says it's for fun and he's not bad. Peon takes Kabir's family pictures on his desk to throw in dustbin but Meera gets it from him. She lies that Kabir asked her to get it. Kabir is upset and Angad consoles him. Nimmo finds Amrita missing and informs Angad. Angad calls Amrita who says that she's on the way. She finds Pritam tensed and follows him. He comes to child care and scolds Nitin for letting the lady inside. Amrita follows him and understands its child care for specially abled. She gets shocked seeing Pritam fighting with a woman.
Precap : The woman will identify Amrita and Amrita will be shocked seeing her.
Click to read: