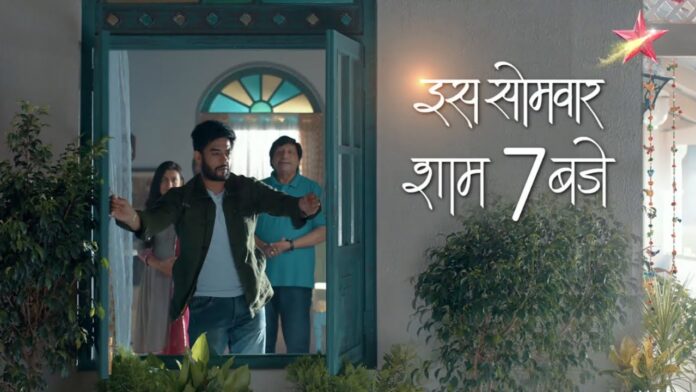 Zindagi Mere Ghar Aana 16th September 2021 Written Update on SerialGossip.in
The episode starts with Nimmo says that there is no need for inviting Meera and her family. Kabir don't want to get caught and agrees with Nimmo. Nimmo asks Amrita and she recalls whatever happened at hospital. Amrita says that she wants her to attend the function and even hopes that it would mend their relations. Krishna Kant comes home upset and Aapa asks what's the issue. Krishna Kant says that Tiwari gave invitation for his daughter's wedding who's three years younger to Meera. Naveen asks him to let her marry whenever she wants. Krishna Kant shuts him. He regrets fixing Meera's alliance with Angad which is why the break up pain is present. Aapa reminds him that it's him who broke it up too.
Krishna Kant gets Sukhberr's call and Aapa asks him to attend it. He attends the call and they both greet each other. Dadaji asks if he has his number and Krishna Kant whatever happened has nothing to do with him as its between him and Guneet. Sukhbeer invites Krishna Kant for Amrita's baby shower ceremony which is on Thursday. He says that there's no compulsion and he can come if he wish. Krishna Kant thinks for a while and agrees to attending the wedding. Meera gets shocked while Sukhbeer cuts the call. Dadaji says Nimmo that he agreed to come. He's happy when Nimmo wonders why would he agree to come so easily and thinks if he has any plan. Guneet supports Krishna Kant. Meera asks why did he agree and ash's doesn't he remember what Guneet did with them. Krishna Kant says that he wouldn't have even took the call it was someone else. However he says that he respects Dadaji and recalls Karan who helped him whenever he was in need. He also says that Amrita is really good person. Meera agrees with him and says that she promised Amrita too. Meera feels proud of her father. They all happily agree to go for the ceremony while Guneet plans something.
Nimmo is upset with Amrita that she went against her and chose to invite Krishna Kant. Amrita says that if she wants she can call and ask them not to come too as nothing is more important than her. Dadaji too asks Nimmo to not fall so much in hatred that her love for Amrita is tested. Nimmo agrees half heartedly. Pritam's friends comes home and says about a deal. They go out when Amrita and Kabir are convincing Angad about Meera. Kabir asks Pritam to explain too but Amrita asks him to keep their house affairs within themselves. Pritam wants to irritate Amrita and voluntarily involves himself in the matter advises Angad to not let go off the second chance.
Pritam : Amrita sees Pritam's wanted poster. Pritam's photo gets published in news channel too.
Click to read