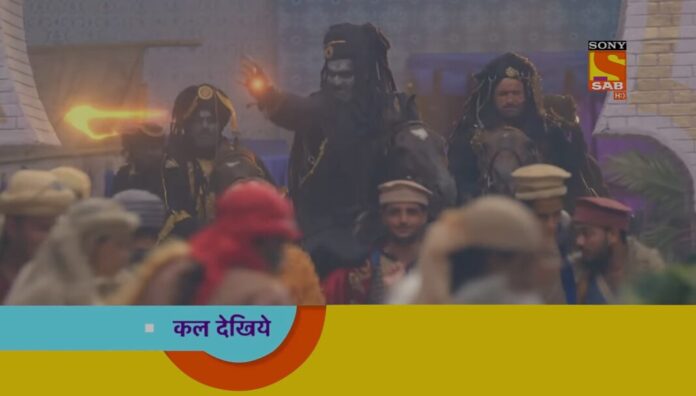 Ali Baba-Dastaan-e-Kabul Spoilers, Upcoming Story, Latest Gossip , Future Story, Latest News and Upcoming Twist on SerialGossip.in
Sab TV launched a brand new show named Ali Baba-Dastaan-e-Kabul starring Sheezan Khan and Tunisha Sharma. It's about a lovable rogue who stays in Mamuli Gully with his five orphan kids.
Simsim has broke the moon apart and it caused the thieves to wake up again. Now they are searching for the stone Talisman which will wake Iblis up. Will Ali and Mariam stop Iblis together to save Kabul from his terror? That will be interesting to watch.
In previous episode, Mariam gets restless when Baizaad locks her in a room until Saddam identifies her. Saddam makes announcement to everyone to enjoy the Bazaar as thieves are not going to attack them but Simsim calls him stupid for circulating a fake message to everyone.
When everyone will be busy visiting the Bazaar fearlessly, her thieves will destroy everything. Ali hides seeing Kasim and Nazia there. He mistakenly pushes a water pot and the water falls on Mariam due to which she gains conciousness.
There Baizaad takes Saddam to that dark place where the slaves are kept. There Ali hides his face with a bucket and Nazia comes there. He fools her by showing an empty bucket and even gets some coins from her by cooking up a story.
Darakaazi gets angry seeing Saddam in the Bazaar but then he concentrates on finding Sehzaadi. Ali sees the sand storm and understands that Dadi was right and the thieves are coming for real.
In future episode viewers will see, Ali will tell everyone to run away as the thieves arrived. They will start attacking the people in Bazaar. Ali will try to save Mariam by holding her hand and she will tell him to leave her. They will look at each other. Dadi will get happy saying they are inseparable.
When will Ali realise about his power?
Will Ali be able to save Mariam from Simsim?
To know what will happen next in your favourite shows, stay tuned to this space.