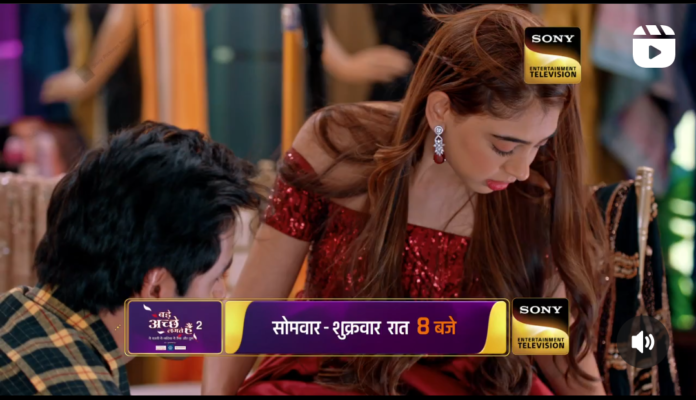 Bade Achche Lagte Hain Spoilers, Upcoming Story, Latest Gossip , Future Story, Latest News and Upcoming Twist on SerialGossip.in
Sony's Bade Achche Lagte Hain, has finally taken the long due leap. As much as viewers were excited to see Ram and Priya with their two kids, sadly they have been disappointed with Ram and Priya exiting the show. Nakul Mehta and Disha Parmar were not ready to play parents to such elder kids.
Post leap, makers are expecting some freshness with bringing new characters while also keep the essence of the show alive by characters who have agreed to be part of the show like – Brinda, Adi, Sara, Vikrant and Lakhan.
Earlier, Avni was taken away by Yash after Lakhan was released. Swati made Lakhan realise how Priya helped them a lot. Here, Priya met Nandini where Nandini revealed her about Ram's childhood incident. Interestingly,
Ram heard this and asked Nandini to call the police as he was not afraid. Things take a different toll when fire started in Sood mansion and Ram worries.
Ram successfully made Priya go out first and hands her over to Lakhan and Swati. Ram failed to go back and save Nandini. So Nandini died inside. Ram and Priya both are hospitalized where Priya requests to save her daughter if only one of them can survive.
In today's episode, Ram and Priya both take their last breath but they come in Pihu's dream and make her promise to give the same love to Prachi. Pihu hears the news of her parents being no more but she strongly takes care of Prachi.
After 20 years of leap, Prachi is seen considering Lakhan as her daughter whereas Lakhan has no feelings for Prachi and Pihu. Lakhan is shown as a big businessman but very arrogant. Prachi is seen with her love interest Raghav who works for Lakhan.
Here, Angad is Brinda and Adi's adopted son. Pihu comes drunk on the stage so Raghav and Prachi somehow make her come down. Pihu is shown to be very disappointed with life in general and humanity in the world. Angad takes Pihu home.
Lakhan comes to the award show as Avni and Sid are there with their daughter. Lakhan decides to walk the ramp with Prachi. Prachi gets happy but also panicks. Sara and Raghav calm her and get her ready. Prachi and Lakhan do the ramp walk together.
In the upcoming episodes, Lakhan will agree to pretend as a father to Prachi for the sake of award show. Prachi will get a shoe bite and Raghav will help her.
Will Lakhan be able to raise Pihu and Prachi?
Will Pihu and Prachi keep their parents' dream alive?
Keep following this space for more updates on your favourite show!