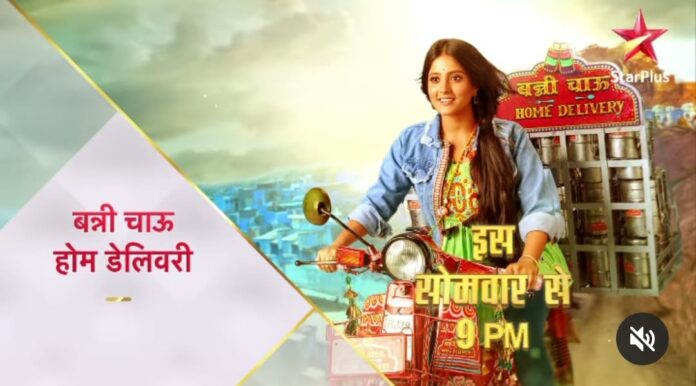 Banni Chow Home Delivery 21st October 2022 Written Update on SerialGossip.in
The episode starts with Devraj saying to Hemant that Yuvan deserves to know the truth that he is married to Banni then it's up to Yuvan what he wants to decide. Banni asks Devraj to not inform the truth to Yuvan. Hemant says Banni is smarter than you dad. He asks Banni to return to her Basti. He says she doesn't have any relationship with Yuvan and Rathore's house.
Banni leaves in tears. She takes her scooter and enters Rathore's mansion by breaking the gate. Devraj smiles. Banni tells Hemant that doesn't tell Yuvan about his marriage with me but one day Yuvan will tell he loves Banni. She says you don't know about love so you're not understanding, Yuvan's heart beats for me so his heart sends a signal to his mind to remember me and if he didn't remember me then I think something is missing in my relationship with Yuvan. She enters inside after telling Hemant that Yuvan and his house belong to her and no one can oust her.
Brinda welcomes Yuvan to Rathore's mansion with Aarti. Charmi signs Banni to come but Banni doesn't come. Yuvan meets his family members. Yuvan sees Banni in Rathore's mansion and asks how is she related to them. Banni says let's start from first. She tells him that she has a deep relationship with him through food. Yuvan says Devraj Dadu told me. He says Banni's name. Charmi thinks Banni warned everyone to not inform Yuvan about their marriage but is it the correct decision?
Yuvan asks Banni to prepare dinner as I want to know what magic you have in food. Banni agrees and she is about to fall but Yuvan supports her. He asks if she went to meet Doctor for her wound. Banni says she will use Haldi paste and enters the kitchen hiding her pain. Yuvan thinks Banni is different.
In the kitchen, Charmi tells Banni that she didn't like her decision of hiding their marriage truth from Yuvan. Banni says later her decision will prove correct and we used to share a lovely relationship and I don't want anyone to point it out. Charmi asks what if Yuvan doesn't remember her? Banni says he can't forget me forever. She places food in the tray for Yuvan. Charmi tells her she forgot Yuvan's kheer. Banni says she doesn't know how it happened. Charmi says she can understand it as she faced the same situation when she met Viraj for the first time. Banni says you're correct and I'm feeling something different in me.
Banni arranges the dining table and food beautifully. Yuvan comes there. She tells him she will call others too. Yuvan stops her. He says I heard so much about your food so first, he wants to taste it. Banni smiles and helps him by serving food. Yuvan asks Banni to feed him like before so he can remember her. Banning says now it's different si eat it by yourself. Yuvan insists her to feed him. Banni feeds him. Yuvan praises her food and suggests her to increase the spice in the food as he likes it that way. Banni controls her emotions.
Episode ends.
Precap – Hemant announces Yuvan is going to be the new CEO of their company. Viraj gets shocked. Veer creates a scene over Hemant's decision. He slaps Yuvan. Later in the darkness, Yuvan slaps back Veer.
Click to read