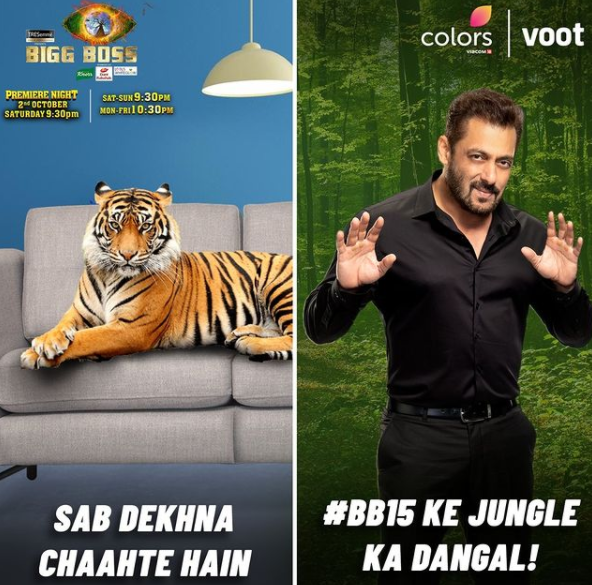 Bigg Boss 15 12th January 2022 Written Update on SerialGossip.in
Today's episode starts with Day 102 at 8 AM; wake up song plays for the inmates.
Karan talk with Tejasswi and says he would have won the last task if he would have played it with Rashami and Devoleena. Tejasswi says if he believe Devoleena and Rashami will side him. Karan says yes. He adds he will stop playing for Nishant as latter will always play for Shamita and Pratik.
9:30 AM; Shamita asks Abhijit to wake up as he is disrespecting BB house rule. Abhijt asks Shamita if she realised the same post becoming the captain. Shamita leave the place. Abhijit decide to sleep instead.
10 AM; Rashami talk with Nishant and says she has always try to mend with him. Nishant claim none side him ever in the game. Rakhi calls them for the breakfast.
2:30 PM; Bigg Boss gives Shamita an opportunity to downgrade one VIP member. Shamita evict Tejasswi. Bigg Boss asks Pratik, Abhijit, Nishant, Devoleena and Rashami to mutually decide who played well in the last task and deserved to get placed in the finale week. Abhijit claim he played well. Nishant, Devoleena, Pratik and Rashami disagree with Abhijit. They discuss with each other.
Abhijit says if they will not agree upon him than let Bigg Boss take the decision. Pratik and Nishant claim they both played well too. Rashami and Devoleena keeps their point too in the discussion. They claim they gave their good effort too. Pratik announce and says to Bigg boss that they can't mutually stand on any decision.
There, Tejasswi and Karan talk with each other. She says she was doubtful that Shamita will only throw her out. Karan says Shamita back stabbed.
3 PM; Shamita tell to Rakhi that Tejasswi didn't did anything for her in the game thus, she evict her. She reveal to Rakhi that Karan and Tejasswi wanted to evict her. Rakhi and Shamita decide to play fairly as Karan will now try to play for Tejasswi.
Shamita says to Karan that Tejasswi didn't do anything for her in the game so as he but she felt like evicting her. Tejasswi claim Shamita has a problem with her from day one and she has proved today. Shamita and Tejasswi argues with each other. She asks Tejasswi not to question her decision. Rakhi gets happy being a VIP contender. Shamita question Tejasswi if she did anything for her in the game. Tejasswi calls Shamita liar. Shamita asks Tejasswi if she has a problem because karan is a VIP. Verbal argument happen between Tejasswi and Shamita.
Tejasswi claim Pratik and Nishant is here for Shamita. Pratik and Nishant asks Tejasswi not to drag them as they are in the house because of their sport. Shamita gets irked with Tejasswi. Tejasswi says that Shamita wants to befriend Karan. Rakhi told to Shamita the same.
Pratik asks Tejasswi not to play victim card. Tejasswi says she is a strong contender. Verbal argument happen between Pratik and Tejasswi. Karan tries to console Tejasswi.
3:30 PM; Shamita asks Tejasswi if she stated she wants to get close to Karan. Tejasswi says yes. Shamita asks Karan to ask Tejasswi not to be insecure so much. She says she has a boyfriend already outside. Karan tries to balance between Shamita and Tejasswi. Verbal argument happen Tejasswi and Shamita. Rakhi jokes on Karan, Shamita and Tejasswi. Karan laughs.
3:45 PM; Karan asks Tejasswi not to bring his angle with Shamita. Tejasswi says she is stating a fact. There, Nishant talk with Devoleena and Rashami and asks them to decide upon Pratik. Pratik says he don't want favour. Rashami says she will side Nishant.
Here, Tejasswi cries. Karan console Tejasswi. Tejasswi says none will take her to the finale. Nishant asks Rashami to agree upon Pratik. Rashami decide to take Nishant forward and not Pratik.
Rashami gets adamant to side Nishant. Nishant refuse to go forward. He asks Rashami to vote Pratik as Abhijit is ready for his name too.
4:15 PM; Bigg Boss asks inmates to tell their decision. Nishant announce Pratik's name. Bigg Boss says Tejasswi and Pratik will compete to fetch the finale week ticket. Tejasswi says she already know the decision. Devoleena asks Tejasswi not to manifest things on her own.
4:30 PM; Abhijit decide to play for Tejasswi. Rakhi asks Pratik to play for himself. Tejasswi talk with Nishant and says all are against her. She says she is about to give up. Karan tries to convince Nishant to play for Tejasswi.
4:45 PM; Karan reads task for Pratik and Tejasswi. Pratik and Tejasswi has to assemble cycle. Inmates will become shopkeeper. Shamita becomes the sanchalak.
5 PM; Task starts; Karan give wheel to Tejasswi. Tejasswi struggle to fix the wheel.
Nishant give wheel to Pratik in the second buzzer. He fix the wheel. Third, Abhijit give Tejasswi second wheel. Rakhi fight amid the task and says she will not get the chance to become the shop keeper than she will not let the task happen. [Episode Ends]
Click to read