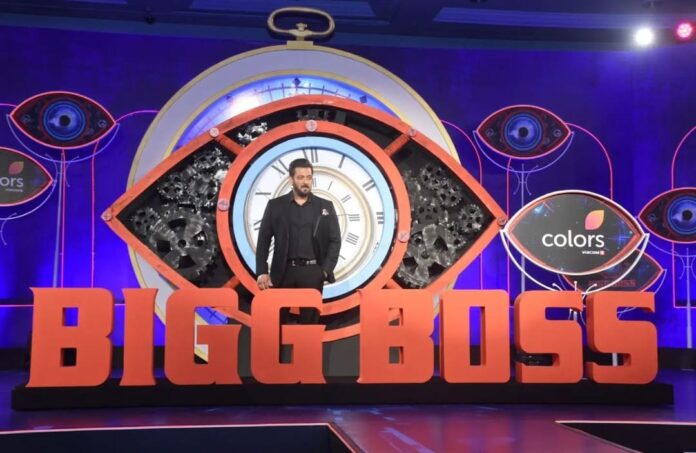 Bigg Boss 16 5th October 2022 Written Update on SerialGossip.in
Today's episode started with Day 4 8 AM: wake up buzzer ring. Housemates sings Bigg Boss anthem.
9 AM: Shalin sings 'tum hi ho' song. Sumbul gives back hug to Shalin and asks who. Shalin completes his song.
Gautam and Tina talks about Soundarya having coffee.
9:30 AM: Sajid, Shiv, Stan, Abdu and Gori enjoys together.
9:45AM: Manya, Gori, Priyanka wait for breakfast.
Nimrit says Manya didn't consider her post she free her from duty. Gautam listen to Nimrit. Nimrit says no one can be a friend in just three days.
11 AM: Abdu talks with Soundary and Archana. Three of them enjoys on Abdu's song. Soundarya exchanges her slipper with Abdu's.
11:30 AM: Abdu is asked by Bigg Boss to wear his mike. Bigg Boss addresses housemates. He asks Stan and Abdu to compete each other and entertain audience. Sumbul becomes Stan's manager. Shiv becomes Abdu's manager. Bigg Boss says at the end of the task; housemates will vote Abdu and Stan. The one with maximum vote will win the task and will be given privilege.
Bigg Boss welcomes social media sensation Kili Paul.
Abdu starts the task with Paul. Stan comes second. Kili Paul enjoys and shows his dancing moves.
Shalin praises Paul for making Hindi songs famous internationally. Paul challenges Shalin for push up.
Housemates enjoys on the beat of 'Tu cheez badi hai mast mast' with Paul.
Bigg Boss asks Paul to bid adieu to inmates. Kili says good bye to mates.
12:15 PM: Shiv tells to Shreejita that he will try Abdu wins at any cost.
Abdu does cleaning. Sajid and Ankit enjoy.
12:30 PM: Shiv tries to convince Archana to make reel with Abdu. Archana says he went to Soundarya first thus she will not support Abdu.
Sumbul try to convince Shalin to support Stan. Shalin says he will first check criteria and then decide.
Archana sleeps, wakeup call rings for her.
Tina kisses Abdu. Abdu blush away.
Sumbul tries to convince mates to support Stan. She talks with Tina and Nimrit.
Shiv makes an effort to convince mates to support Abdu.
2:15 PM: Task starts: Shiv talks with Manya and asks her to support Abdu.
Sajid make reel with Stan.
Priyanka make reel with Abdu.
Abdu sings and entertains Shiv
Archana make reel with Stan.
Shreejita make reel with Abdu
Gori make reel with Stan.
Ankit support Abdu.
Manya says to Priyanka that she don't flip according to the situation.
Soundarya support Stan.
Sajid tells to Stan that he isn't getting vote but its' Sumbul's effect
Shalin support Stan because of Sumbul.
Tina, Nimrit and Gautam also support Stan for Sumbul.
Abdu tells to Shreejita that he is upset because Gautam didn't support him. Sheerjita asks Abdu to not entertain the ones who is not supporting him. Abdu agrees.
Manya support Abdu.
3:15 PM: Bigg Boss tells Stan and Sumbul wins the task. He says both will get a privilege to change bedroom of the mates. Bigg Boss asks to decide before blinds out.
3:45 PM: Gautam talks with Abdu. He clears he didn't choose him because he didn't wanted the other to win.
Sumbul discuss about changing the room with mates.
4 PM: Soundarya asks Manya to not keep false water bottle in the kitchen since she is cooking. Both argue with each other.
Gautam asks Manya to be herself and don't lose as whole nation is watching her.
4:30 PM: Sumbul discuss with Nimrit and decide to give priority to the ones who voted for them. Nimrit likes the idea. Sumbul decide to convince Tina. Tina refuses to talk with Shalin and Sumbul.
4:45PM: Tina complaint to Shalin that he didn't like his attitude few years ago.
Tina asks Shalin if there is something with him and Sumbul. Shalin says Sumbul is a kid. He asks why she is questioning. Tina says she felt Sumbul doesn't like if she share room with him. Sumbul asks Tina to share room of 4.
5 PM: Stan feels bad thinking Abdu lost. Abdu and Sajid console Stan.
5:30 PM: Gautam talks with Nimrit. He says Tina will flip according to the situation.
6:15 PM: Archana disrespect Manya's crown.
6:45 PM: Bigg Boss asks housemates if Abdu is everyone's favourite or not. Housemates say yes. Bigg Boss discloses inmates feel Stan won because of Sumbul. He says Abdu lost because of Shiv. Bigg Boss asks Shiv to apologize to Abdu.
Shiv apologizes to Abdu. Archna asks Shiv to be loud. Shiv asks Archana to behave with him.
Bigg Boss asks Sumbul and Stan to tell their decision. Sumbul shuffle the beds. Bigg Boss asks inmates to follow the Sumbul's decision until beds are shuffled next.
Gori feels betrayed as Stan didn't side her.
7:15 PM: Stan says Bigg Boss is playing. Sajid says task was between Shiv and Sumbul.
7:30 PM: Abdu entertains Sajid and Stan. He tries to rap like Stan.
8:30 PM: Shiv asks Gori why she flipped. Gori says she thought about the game. She says to Shiv that everyone is double faced out here. Gori says everyone is having a group except them.
11:15 PM: Archana and Gautam laughs on Stan
1 AM: Stan feels upset as Shiv and Ankit tried to make fun of him.Shiv and Stan argues with each other. Sajid and Gori ask Stan and Shiv not to argue. Shiv and Stan continues their fight.
Abdu says Stan shows off his money.
1:15 AM: Gautam asks Shiv not go personal as Salman will not spare on weekend. Shiv asks Gautam not to jump into his matter as he doesn't know the whole thing. Gaumta and Shiv argues. Stan cries as Shiv judged his popularity. Sajid bridge between Stan and Shiv. Soundarya and Gautam say Shiv has an attitude and disrespects all. Shiv and Stan patch up later. [Episode Ends]
Click to read