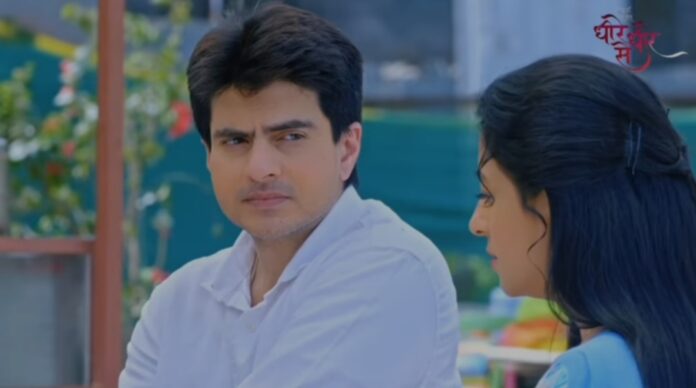 Dheere Dheere Se Spoilers, Upcoming Story, Latest Gossip , Future Story, Latest News and Upcoming Twist on SerialGossip.in
Start Bharat's show Dheere Dheere Se is gearing up with an interesting drama with Bhawana receives her first earning by accepting the contract. She also finds a house for her to stay with Aanchal. Now it will be interesting to see what will happen next?
Will Raghav learn about Bhawana's house hunting? What will be the reaction of Raghav when he learns about Bhawana find a house? Will Bhawana inform Raghav about finding a new home?
In the current track it shown that Raghav gets mesmerized seeing Bhawana and praises her look. He then wishes her luck. Bhawana thanks him then leaves in a cab.
Raghav wonders how to stop himself from falling for Bhawana more. Vidya decides to use Raghav and Bhawana's photo when the right time comes to sabotage Raghav's image for threatening her.
Here Bhawana gets happy introducing herself to the passengers as a working woman. Raghav and Aanchal worries whether Bhawana's meeting with the client went well good or not. Bhawana meets Chaudary and signs the contract after she gets satisfied reading the contract.
She also requests some advance in cash. Chaudary asks her to wait which Bhawana obliges. She informs the same to Raghav. Raghav assures her about Aanchal's safety and asks her to return home soon. Bhawana gets the cash from the client.
Due to auto driver's irresponsible behavior Bhawana almost lose her advance amount which leads her to scold the driver. Later Bhawana meets the broker who shows her a house and convinces her to take that house by assuring the locality.
Bhawana agrees to pay the deposit the next day then leaves. Bhawana buys gifts for both Aanchal and Raghav. She then gets shocked hearing Amit's conversation with someone on the call when she searches for Raghav to give the gift.
In the upcoming episode it will be shown that Gaurav will overhear Bhawana's conversation with the broker. He will inform the same to Raghav. Raghav will get confused the reason behind Bhawana's decision to search for a house when he didn't tell her Brij Mohan's decision to her yet.
He will then get shocked learning Bhawana is about to finalize a house in a locality which isn't safe. Meanwhile Bhawana will meet the broker and the latter will urge her to pay the deposit to finalize the house.
To know more about what's happening in your favorite shows keep checking this space.