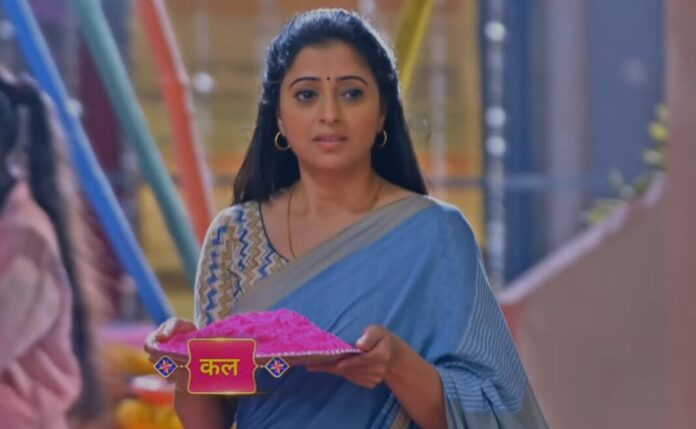 Dheere Dheere Se Spoilers, Upcoming Story, Latest Gossip , Future Story, Latest News and Upcoming Twist on SerialGossip.in
Star Bharat's show Dheere Dheere Se is gearing up with an interesting drama with Bhanu in his intoxicated state advices Raghav to confess his feelings to Bhawana. Now it will be interesting to see what will happen next?
Will Raghav confess his feelings to Bhawana? Will Bhanu and Raghav remembers their intoxicated state conversation with one another?
In the current track it shown that Bhawana decides to lock the window's too so that she won't get distracted. She then gets confused not finding Raghav there but gets happy seeing Aanchal playing Holi.
Raghav recalls the promise he made to Aanchal and gets determined to fulfill it at any cost. He then drinks the baang made by Devraj and gets intoxicated. Devraj worries about the consequences. Raghav dances with everyone. He then imagines
Bhawana approaching him with colours and encourages him to confess his feelings to her then disappears. Raghav decides to confess his feelings to Bhawana then leaves. Savita gets worried seeing Raghav. Bhawana gets happy that both families are celebrating Holi.
Raghav comes to the Shastri's house. Bhanu arrives there. Raghav confesses his feelings for Bhawana to Bhanu in his intoxicated state and says he isn't afraid of him. He further asks Bhanu to convey his confession to Bhawana.
Bhanu asks Raghav to confess it on his own. It revealed that Bhanu had the baang and he is also intoxicated. Raghav and Bhanu hugs each other. Bhanu tells Raghav about his first love who he fails to confess his feelings. Raghav asks Bhanu's blessings to make a confession to Bhawana. Bhanu blesses Raghav.
In the upcoming episode it will be shown that Raghav and Aanchal will dance around Bhawana also bring colours to her and encourages her to play Holi.
Bhawana will shout at them to stop. She will then lash out at Raghav for acting like a child and tells she is a widow now. Raghav will say Bhawana what will happen to the girl kids in the future if she fails to bring the change now. Bhawana will looks on.
To know more about what's happening in your favorite shows keep checking this space.