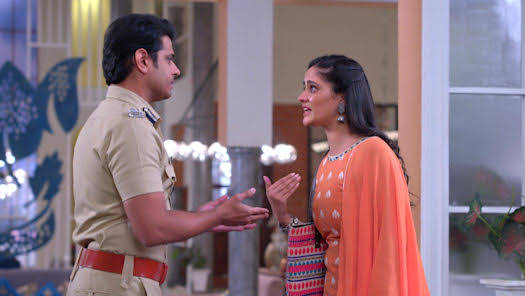 Ghum Hai Kise Key Pyaar Meiin Spoilers, Upcoming Story, Latest Gossip , Future Story, Latest News and Upcoming Twist on SerialGossip.in
Star Plus popular daily soap Ghum Hai Kise Key Pyaar Meiin have garnered a huge amount of audience. The gripping storyline filled with twist and turns makes it engaging to the viewers. Previously, Sai lashed out at Virat for hiding the truth and picked Vinayak from school without taking Chavans permission.
She spended some quality time with her son and became emotional, while Pakhi got worried as she couldn't able to find Vinayak. She then checked the CCTV footage and informed Virat about Sai taking their son.
He went to the latter and tried to make her understand but she gave him a deadline to tell the truth to Pakhi. She determined to get Vinayak back and also notified Usha about it.
In the current track, Pakhi scolded Sai for picking Vinayak without her permission and warn her to stay away from him. Virat also tries to make Sai understand but she stays determined to get Vinayak back. She reminds him about her deadline while he gets tensed thinking about Pakhi's reaction.
Here, Mohit and Virat goes to pick Karishma from Sai's house. The latter states that Chavans will not accept her back, but Sai assures that everything will be fine. Mohit shows his gratitude towards Sai and then goes along with Karishma.
Virat reveals to his family about Vikrant being in the opposite political party and says that he was just trying to ruin Bhavani's image by using Karishma. Virat makes Vikrant arrested and gives the proof of Karishma's innocence.
Ahead, Chavans regrets blaming Karishma and cries thinking about her. At that time she comes there along with Mohit and Sonali gets elated upon seeing her. She apologises for her behavior while Bhavani also accepts Karishma back wholeheartedly.
Karishma reveals about her pregnancy and then miscarriage to the family while they gets shocked. Sonali breaks down and shows her concern towards Karishma. Meanwhile, Sai goes to Vinayak's school and spends some time with him.
Later, Pakhi gets furious seeing Sai with Vinayak and ask her to concentrate on Savi more then her son. Meanwhile, Sai helps Vinayak to rebuild his clay project and the latter gets happy.
Now in the upcoming episode, Vinayak will win an award and tells about it to his family. Pakhi and Sai along with Virat will get happy for him and starts clapping. Vinayak will say that he wants to dedicate his trophy to his mother.
He will look at Sai and Pakhi, while they smiles and starts moving towards him. Virat will look at them and gets worried. He will think that he haven't told Pakhi that Vinayak is Sai's son and becomes tensed thinking that what he will do?
Will Virat fulfill Sai's demand?
Will Pakhi be able to accept the truth?
It would be interesting to see what happens next on the show.
Stay tuned with us for more news, Spoilers and written updates of Ghum Hai Kise Key Pyaar Meiin.