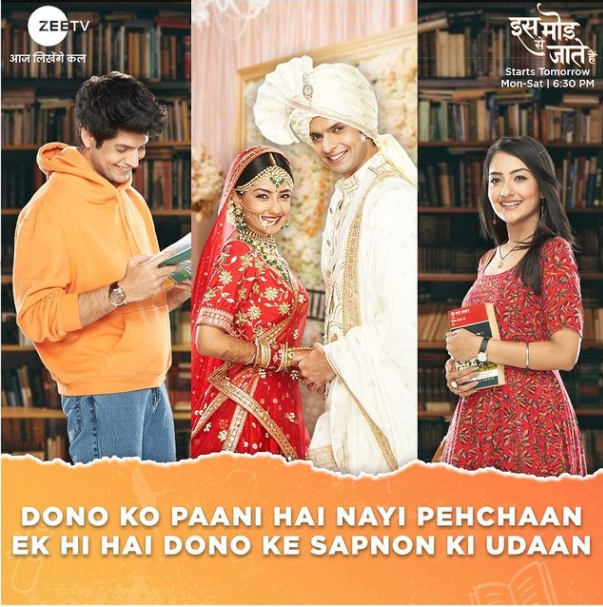 Iss Mod Se Jaate Hain 22nd March 2022 Written Update on SerialGossip.in
Episode begins with Shiva tells Atul that they should know that what happened between Sanjay and Paragi. She goes to Chanda to learn about the fight. She acts like helping Chanda in the household chores. She asks her that how Sushma reacted after seeing Sanjay's viral video. Chanda tells her that Sanjay is there to take care of Paragi so the latter need not to worry about Paragi. On the other hand, Sanjay says that he could not become an IAS officer and Paragi doing her duty which is not wrong. He says that they are doing their business legally so they need not to get afraid about anything. Sushma tells him that they are targeting the business with this enquiry. And why Vinod and Sanjay are not understanding this.
Paragi tells her that government checked Bhopal's all the institute's financial record. She says that she got this case because she did well in Narayan's case. Sanjay asks Sushma to understand Paragi's job. Sushma says that Paragi is this family's daughter in law too and why can't she fulfil her responsibilities as a daughter in law of this house. Pramod receives a message and informs them that investor refused to invest in their new project because he got to know about summon. Sushma says that Paragi's job started affecting them. Sanjay tells her that they will get clean chit after the enquiry. Vinod agrees with him. Paragi thinks that she trust Vinod and Sanjay but Pramod's behaviour looks suspicious.
After some time, Pramod tells Baby that Paragi should not get this file. She gets worried and asks him that what if Paragi proves them as criminals and put them behind the bars. He tells her that they can do something to save themselves. She asks him that what she has to do. He tells her that Sushma should not take Paragi's side and he will handle other things.
Paragi thanks Sanjay. He tells her that he wants a chance. She agrees to give chance to him. She asks him to share everything with her. He hugs her and says that he missed her so much. She tells him that she is worried about investigation and she can't back off from this case too. He assures her that everything is fine in their business.
Pramod tells Baby that Paragi doing all this to ruin Sanjay's career. Sushma hears that and tells them that she won't let Paragi ruin Sanjay's career and leaves from there. Pramod tells Baby that Paragi thinks that this is their family business but she will be shocked tomorrow.
Paragi informs Batra that her family don't have any problem with the investigation. She learns that Pramod doing business separately using Sanjay coaching centre's money. Meanwhile, Pramod tells Sanjay that he needs Sanjay's signature to apply bank loan because of investors back out. Sanjay signs on the papers without reading it. Pramod thinks that Sanjay will face all the problem tomorrow and he has to do this to save himself.
Next day, Sushma's behaviour upsets Paragi and the latter leaves for office. In the office, Paragi tells Mishra to send summon to Pramod's company only and he need not to call Sanjay coaching centre's owners.
Episode ends.
Click to read