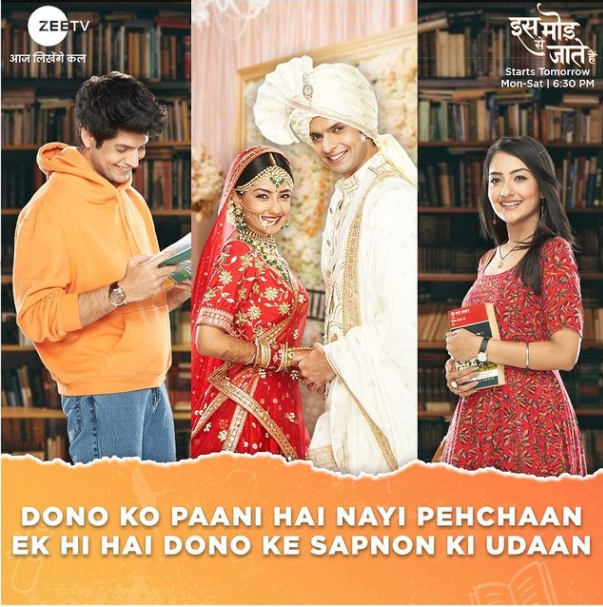 Iss Mod Se Jaate Hain 3rd January 2022 Written Update on SerialGossip.in
Episode begins with Bua tells them that she choosed a girl for Pramod and Vinod. And for Aashi also she is only searching groom because as a elder of this family it's her responsibility. She says that they should have informed her that what's happening here if she knows then she would not have given her words to girl's family. Sanjay tells her that Paragi accepted the marriage proposal before 'puja' only and he would have called her first to inform because she is not just a Bua for him but his Badi Mummy too. And he learnt so many things from her only but he gave commitment to Paragi.
He asks her to not force him and apologizes to her saying that he can't agree for the marriage proposal which she brought for him. She says that he is going against her decision. She reminds Sushma that how she did Sanjay's upbringing. She tells Sanjay that Paragi is not the right choice for him. He tells her that Paragi is his love. She says that tomorrow girl's family coming and she also want to see that whom he will choose and she goes inside.
On the other hand, Aditi recalls that how Mayank asked her to arrange money for Gulshan's case. She sees Paragi sleeping and tries to steal her bangle but hides hearing Chanda's voice. Chanda puts the milk glass on the table and gets happy thinking that she need not to give dowry to Sanjay's family and she wants Paragi to leave the house as soon as possible and she leaves the room. Paragi wakes up and notices Aditi leaving the room. Aditi lies that she brought milk for her and leaves the room.
Sanjay asks his parents that how can Bua take this big decision without talking to him. He asks them to talk to Bua. Meanwhile, Bua tells Pramod and Devi that they should have informed her earlier. She says that the girl whom she choosed will live as Sanjay's shadow and she knows that Sanjay will agree for this marriage proposal and moreover Vinod and Sushma won't disrespect her decision.
Vinod tells Sanjay that he can understand him but he and Pramod can't go against Bua. Sanjay tells him that now he can understand that how Paragi would have felt when she was asked to choose between two options. He says that he can't break Bua's heart and also he can't leave Paragi. He feels suffocated and leaves the house.
Later, Sushma worries about Sanjay. She stops Bua from leaving the house. Bua asks her to reject Paragi. Vinod tells her that Sanjay's love for Paragi stopping him. Pramod tells him that nothing is above Bua's respect and reminds him that what all Bua did for them. Bua asks Vinod to think that she is dead like their parents and moves towards the door. Sanjay stops her and agrees to meet the girl whom the latter selected for him.
Episode ends.
Click to read