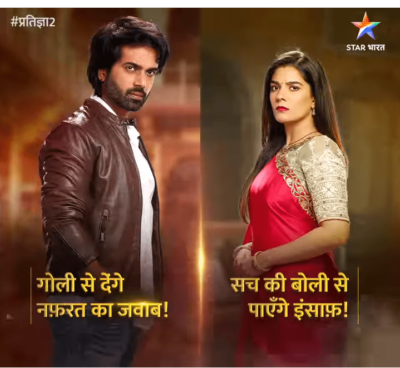 Mann Ki Awaaz Pratigya 2 1st April 2021 Written Update on SerialGossip.in
Episode begins with Pratigya questioning Sajjan Singh about his act and she sells in all these yours you never touched this gun ever then why all of a sudden today you brought it out? She says I am amazed at the fact that you have kept it with care all these years. Krishna takes the side of his father and says what do you mean by keeping it with care ? What do you expect us to do? That man directly came to our house and without any reason he is dragging our family members and blaming them. What should we do to such a person ?
Should we do the welcome rituals with him for doing with us and our family members? Pratigya says but things can be handled standing by the law as well. Shakthi doesn't understand why Krishna is not taking the side of his wife and speaking in my favour. Sajjan Singh speaks in the favour of Pratigya and says I can understand that whatever you are saying is true but today I couldn't control myself at all. Hence I did it in the heat of the moment.
On the other hand, Krishna is really angry and he goes out of the house saying that I am not understanding what we are doing and why we are doing. On the other hand Shakti blames Pratigya that we are tolerating this due to you as you are the one who is fighting for the case and your client is doing investigations on his own and is holding people like that.
Kirti comes home from her school and she gets upset and scared to see the gun besides her grandfather. She gets upset and goes straight to her room and Sajjan asks Pratigya to manage her as she is upset. Pratigya changes summer that what you have done in the school again that they have called me for your complaint. Samar doesn't answer anything to Pratigya. Sajjan Singh also comes and asks Samar what he has done in the school. He says to him that you should have been habituated to accepting your fault then you will be a happy person in life.
On the other hand Krishna comes to the house of Radhe and keeps a bag full of money in front of his door and hides behind the wall after ringing the bell. His wife comes out of the house with his infant baby girl in her hand and is looking here and there. Suddenly she notices the bag and opens the zip. She is shocked to find so many bundles of money inside it and cries thinking who killed her husband and then comes to show sympathy.
Back at home, all are having dinner at the table and Krishna is missing while on the other hand Shakti is angry with his wife Kesar. He says to her you are the mother of Samar then why Pratigya will keep an eye on them and will tell them what is wrong and what is right. Being a mother it is your responsibility and your rights as well. Why are you behaving like only Pratigya knows how to raise a child?
You are actually insulting yourself by saying that Pratigya is the one who takes care of everything. Later on, Shakti tries to know from his son about the school complaint when he says that only we can save you from the allegations but if you raise your hand on us then we will not help you out and Shakti gets shocked to hear this.
Precap – Krishna comes home being drunk and urgently thinks after 9 years if Krishna has done such a thing then there has to be some grave reason. Which we have to find out. Balwant thinks there is someone who has connection will the murder of my son from that family.
Click to read: