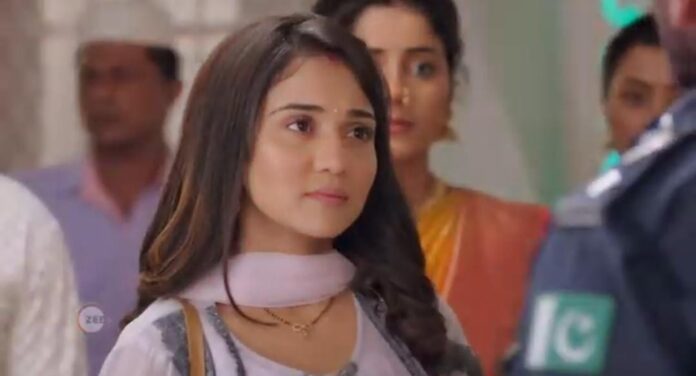 Meet 24thSeptember 2023 Written Update on SerialGossip.in
The episode starts with Sumeet getting relived hearing Shlok's voice on call and thinks he is safe and not in jail. She returns back from the jail gate . Bilawar thinks Sumeet must have found out where her husband is and decides to follow her. He thinks they wanted to trap Sumeet but now they can catch both her as well as her spy husband. Sumeet reaches the Ganesh Chaturthi's venue and hears Shlok performing. She smiles happily and runs towards Shlok. The latter also comes to her and picks her up. They hug each other emotionally.
Bilawar reaches reaches there and catches them. He demands to arrest Shlok as he is Indian spy. Shlok struggles to stop them and all this turns out to be her imagination. She realises she cannot make the mistake of recognising Shlok in public. Sumeet determines to take Shlok away from Bilawar's trap. She tries to hide from Bilawar. Shlok feels Sumeet's presence and looks around but misses to see her. Band members pay Shlok and he thinks to give it to Kafur so that he can return back to India. Shlok notices Bilawar and misunderstands that he has heard him singing Ganesh Vandana and found out the truth.
Bilawar follows Sumeet and thinks she must be talking to Shlok but she is taking prasad from priest. Sumeet thanks Ganesha for bringing her so close to Shlok and hopes to meet him soon. Bilawar asks constable if found out the information he has asked for, the latter says they are going to raid there. He thinks Sumeet has troubled them a lot so now he will take revenge from her husband. Sumeet feels emotional and says she is confident that one who sang was her Shlok but she could not even get his glimpse.
Sumeet sees modak near Ganesh's idol and her band mate tells her not to eat it as it is leftover from the singer. She says how he was missing his wife. Sumeet eats it and the former realises singer was Shlok , Sumeet's husband. She gives Sumeet a piece of paper that fell from Shlok's pocket. Sumeet thinks Shlok is nearby and safe too so Akki must also be fine. Rajiv feels helpless and blames himself for not being able to do anything for Sumeet and Shlok. He showers his anger on Anju and asks her not to come infront of him. Poonam scolds Rajiv for misbehaving with Anju.
Pankhuri sees Priyanka coming home crying.The latter says she made a mistake by agreeing to marry Raj. Pankhuri tries to remove her ring to return back to Raj but Raj comes there and consoles Priyanka. He says he is happy with her way she is and she doesn't need to change herself. Shlok secretly keeps letter in Naaz's purse telling her all the truth. He tells Akki that they will leave for Delhi tonight before everyone returning back. Sumeet reaches the address they got from Shlok's pocket and gets shocked to see its Bilawar's house. She notices shoes there and concludes it belongs to Shlok and Akki. The episode ends with Sumeet going to ring the bell of house.