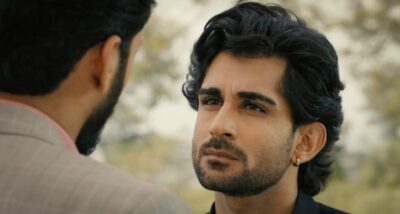 Mehndi Hai Rachne Waali Spoilers, Upcoming Story, Latest Gossip , Future Story, Latest News and Upcoming Twist on SerialGossip.in
In viewers favorite show Mehndi Hai Rachne Waali Sunny tells Pallavi about Raghav's illegal business but Pallavi refuses to believe him. They both challenges each other. Now it will be interesting to see will Raghav get to know that Sunny know about his secret? Will Sunny finds an evidence against Raghav? What will happen when Pallavi get to know whatever Sunny told about Raghav is indeed true?
In the current track it shown that Priest asks Jaya to tie a thread around her family members hands when Sunny comes forward Raghav stops him saying this is for family. Everyone does aarti. Pallavi asks Keerti to do the aarti. Keerti tells that she will do the aarti with Sunny only so Pallavi tells the priest the family members done the aart and asks him to continue. Keerti gets shocked. Later when Pallavi gives everyone the prasad she refuses to give to Sunny and goes to the kitchen. Sunny follows her and asks her to stop being jealous.
Pallavi laughs at him and tells that she dont want a criminal like him to do aarti for God. Sunny tells Raghav is doing so many wrong things and asks her to ask Raghav why police caught his men. Pallavi warns Sunny to not to say anything against Raghav. She also tells that the trust they have for one another is named as RaghVi and decides to leave but stops when Sunny tells her that Raghav isn't paying custom charges for the diamonds which is illegal and calls Raghav as a smuggler. Pallavi gets furious but Sunny tells her that he will prove whatever he told is true in return she has to slap Raghav infront of everyone. Pallavi smiles and tells Sunny that If he fails then she will beat him with the broom from tbe house to the market and leaves. Sulochana praises Raghav's house. Sharda makes fun of Sulochana. Amtuta teaches Farhad how to eat modak. Nikhil comes there so Farhad leaves the place.Then they all goes inside the house when Priest asks them to do the next part of the puja. Jaya refuses to feed Sunny the prasad saying that it's for family. She then tells the priest that Raghav and Pallavi will continue the puja here after.
Raghav refuses and asks Priest to do the next part and they can do this Someother time but gives in when Sharda insists him. Raghav and Pallavi sits together. Raghav makes Pallavi have the prasad but he refuses to have it from her hand. Sulochana gets happy. Jaya and Sharda gets sad. Raghav leaves the place. Farhad talks to someone on the call about how much diamond they bought without paying the custom charges also he talks about the register in which he has noted it and enters the room. Sunny hears everything and follows Farhad then he lies that he is searching for Keerti when Farhad sees Sunny near the room. Farhad closes the door. Sunny decides to find the register soon and prove whatever he told Pallavi is true.
In the upcoming episode it will be shown that Pallavi will apply ointment on Raghav's back. Sunny will go to the room to find the register which Farhad told earlier in his conversation with someone on the call. He will make something fall to the ground by accident. Raghav will hear a noise from the room so he goes to check. Inspector will comes to meet Raghav. She will say that she heard so much about him.
Raghav will say to the Inspector that he will not meet people without any appointment.
Pallavi will confusingly look at Raghav and the Inspector's interaction.
To know more about what's happening in Your favorite shows Keep checking this space.