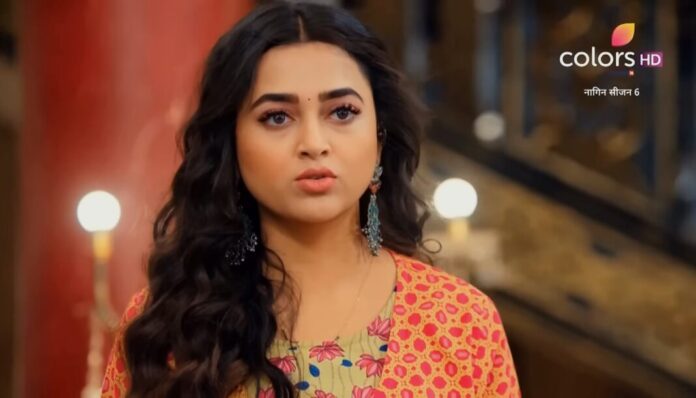 Naagin 6 Spoilers, Upcoming Story, Latest Gossip , Future Story, Latest News and Upcoming Twist on SerialGossip.in
Color TV popular show Naagin 6 is witnessing an interesting track where Prathna learns the truth.
As reported earlier Prathna finds out the one who's with her imposter not Raghu. She goes out to confront Vish and Mehek to know about where is her Raghu.
Shesha stops her on time and reminds her that she won't get any information from Vish and Mehek and that we have to outsmart them by using this duplicate Raghu and don't let them know that you know their plan. Shesha asks if she hides anklets in a good place. Prathna says no one can reach there. She misses Raghu and cries for him.
In the dark room, Raghu is shown to be tied in the prison. Some lady comes there with food. Raghu says he won't let her harm Prathna. She leaves. The next day, Duplicate Raghu wakes up. He sees Prathna and tries to romance her. Prathna controls her anger.
Kids come there and take Prathna with them. Mehek returns home with Vishaka. Duplicate Raghu comes to his real form I.e snake catcher and tells Vish and Mehek that he is unable to handle Kids. Vish asks him to be careful.
Kids ask Prathna to get ready them for a fancy dress competition. Prathna readies the kids. Kids asks why they celebrate republic day. Prathna tells them about republic day and says how Rishabh and Prathna saved their nation.
Tina goes to pray to god in the mandir where she sees anklets and wears them without other's knowledge. Vish hears sound of anklets when Tina is walking. She tells it to Mehek. Seema says it's her illusion.
Vish warns her to stay silent. She sees Tina is wearing them and shows it to Mehek. Mehek feels happy seeing them. Vish says Bharat maata has their anklets and no one can save her from them.
Prathna takes the kids to a fancy dress competition at school.
Mehek and Vish decide to steal anklets from Tina before Prathna realises Anklets are with Tina. Seema shows them Tina. Prathna spots them and sees where they are seeing. She sees Tina wearing anklets.
She decides to save anklets. She signs Shesha. Vishaka goes to get anklets. Prathna stops Vish. They challenge each other.
In the upcoming episode, viewers are going to witness Prathna and Vish fight with each other. Prathna hits Vishaka and makes her fall down.
Vishaka blows fire from her mouth which burns the stage. Shesha falls unconscious in Prathna's lap. Takshak says to Prathna 'Anklets are not enough to save Shesha and she needs the power of germs too'. Prathna gives away all her germs to save Shesha that time someone stabs her on her back
Who's the backstabber? Will Prathna be able to save Germs?
All these questions will be answered in the upcoming episodes.
To know what will happen next in your favorite show, keep checking this space for new and exclusive updates of Naagin 6.