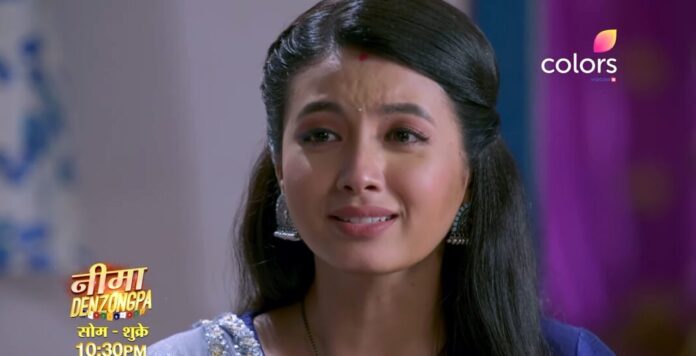 Nima Denzongpa Spoilers, Upcoming Story, Latest Gossip , Future Story, Latest News and Upcoming Twist on SerialGossip.in
Colors TVs Popular show Nima Denzongpa never fails to entertain it's audience with new twists and turns of the story. Currently serial focusing on Nima to seek Manav's help!
In the previous episode we saw; Sujatha pretended like not angry on Manav and enquired him whom questioned him? Manav said to her that often people misunderstood him as someone else.
Sujatha lied to him he was Manav. He demanded her to show his old pictures or ID proof. Sujatha got angry on him and lied to him everything burnt in fire. Later Sunita fears someone stalking them.
Nima opened the door and found kids there for donation. Later Sujatha tried to be romantic with Manav and said to him he was her hero. Manav avoided her due to uncomfortable. Later Rishi troubled Nima in disguise.
Nima shouted for help she came out searching for help. Nima asked Manav to help her he chached Rishi behind and beaten him. Rishi escaped from him before showing his face ro him.
Nima tied her dhuppatta on Manav's wound. Sujatha disliked it and quarrel with her. Manav supported Nima there disappointing Sujatha.
In the upcoming episode viewers will see; Sujatha will help Rishi. Rishi will clear to her that he was troubling Nima for her sake only. He will complaint that Manav beaten him it's better she stop him then Nima. If it continues she will get caught asap.
Later Sujatha will drop down Virat's ID proof. Manav to notice the hoodie and doubt Rishi. He will confront Rishi in anger.
What will happen next? Will Nima help Virat to get back his memories? When will Sujatha get caught?
Upcoming episode will answer to our all questions stay tune with our space for more updates.