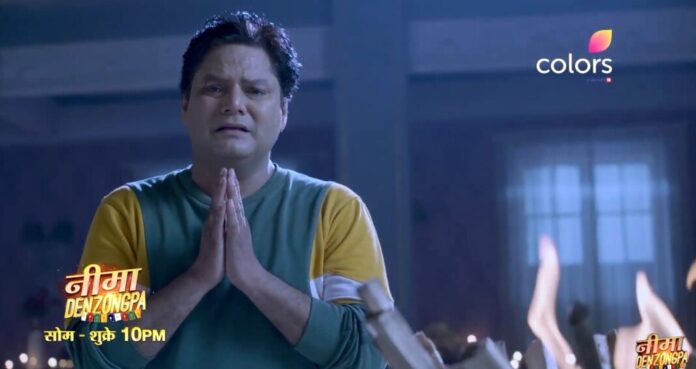 Nima Denzongpa Spoilers, Upcoming Story, Latest Gossip , Future Story, Latest News and Upcoming Twist on SerialGossip.in
Colors TVs Popular show Nima Denzongpa never fails to entertain it's audience with new twists and turns of the story. Currently serial focusing on Nima to identify Virat's things!
In the previous episode we saw: Alok locked Nima inside Almira and burnt it. He shared to Suresh he burnt that ghost. Nima's laughing sound scared Alok to the core. Nima came down holding fire lamp.
Alok asked Sunita to save him and hide behind her. She pretended like hold Nima and tied her with pillar. Sunita asked Nima what's she need? Nima said to her that she need her Virat. Alok might be punished for his sin.
Alok requested her to leave him instead he will do anything she ask. Her mobile rang there alerting Alok. He found out she was doing drama there. He splashes water on her face and complained no one betrayed him the way she done to him. He threatened to kill her but dropped the knife down seeing his mom and wife.
Gulshan slapped him and lashes out at him. Mona and Chinky didn't give heed to his plea. Police arrested him. He warned to don't leave them. Later Gulshan disappointed with Nima for send her son to jail. She demanded her to bring back Virat till then she shouldn't come in front of her. Sunita took Nima from there.
In the upcoming episode viewers will see; Nima will get a phone call from Police. She will rush to mortuary. She will enquire police why did they called her? Police will ask her to indentity this unidentified dead body? Nima will check the things and recognise it as Virat. Police will inform her they found out these things near this dead body.
What will happen next? Is Virat alive? When will Nima find out Virat's whereabouts? When will Virat return to home?
Upcoming episode will answer to our all questions stay tune with our space for more updates.