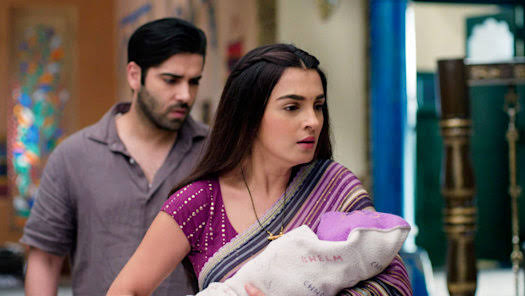 Pandya Store Spoilers, Upcoming Story, Latest Gossip , Future Story, Latest News and Upcoming Twist on SerialGossip.in
Star Plus' popular show Pandya Store is with Kamini creating misunderstanding in the naming ceremony.
In the current story, it's seen that Rishita says to Dev that she wants Chutki's day to be special only for her and Dhara shouldn't spoil it. Kamini overhears this. Meanwhile, Raavi is getting rebuked by her client for not coming to the shoot after receiving the advance money.
Dhara says to Raavi to attend the shoot as it is only a matter of one hour. Dhara instructs Raavi to keep Chiku's clothes in her room whereas Chutki's clothes are in the puja and asks her to take care to not mix them up. However, Raavi accidentally leaves a pair of Chiku's clothes with Chutki's.
Kamini tells the priest to prepare for two babies naming ceremonies to create drama in the function. Later Rishita gets confused finds two puja arrangements and questions the priest.
The latter says that he is told to prepare for two babies. He points out Kamini as the lady who instructed him. But Kamini cunningly moves apart.
Rishita sees Dhara and misunderstands that the priest was talking about her. She gets angry and calls off Chutki's naming ceremony. Dhara says that Rishita had a misunderstanding. Rishita sees Chiku's clothes placed with Chutki's clothes in the puja and asks Dhara for an explanation.
Rishita's mom accuses Dhara of being jealous of Rishita for giving the first heir to the family. She further says that Dhara spoiled this family's baby's special day for an unknown baby.
Suman warns her to not speak a word against Chiku. Dev declares that Chiku's name ceremony will take place along with Chutki's.
In the upcoming episode, it will be seen that Suman will give a black thread with gold charms for Chiku saying it was Gautam's and she will give a black thread with silver charms that belongs to Dev.
Raavi will say to Rishita that Suman doesn't differentiate between babies. Rishita will say that the partiality is happening since childhood of Dev so Suman gave a silver band to Dev whereas she gave a gold band to Gautam.
Can Pandyas clear Rishita's misunderstanding?
Stay tuned to this space for the latest update on your favorite shows.