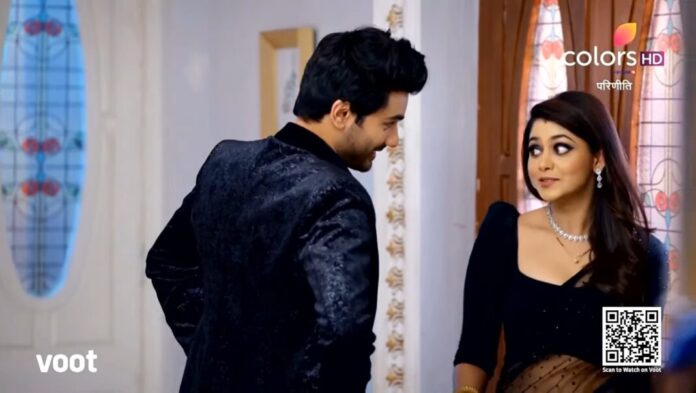 Parineeti Spoilers, Upcoming Story, Latest Gossip , Future Story, Latest News and Upcoming Twist on SerialGossip.in
Parineeti is Colors TVs Popular show. This show never fails to entertain it's audience with the unique story line. Now serial focusing on Parineet to learn the truth!
In the previous episode we saw; Rajeev excused Neeti to meet Naman seeing Parineet there. Neeti doubted what happened to him? Later Natasha's father called a girl to meet him in 303 room.
Naman overheard it and doubted what he gonna do there. He shared his doubt with Rajeev. He assured to Naman that he will manages Natasha there not to go there. He called Monty for help and learnt from him he was waiting for his girlfriend in 303 room.
Rajeev thought he will get caught today and followed Naman behind. Parineet noticed Sanju and followed him to caught his lies. Meanwhile Seema saw Monty in her room and misunderstood him as thief. He said to her he came to wrong room he was waiting for his girl friend. Naman saw his father in law with a girl. Rajeev stopped him from entering into room.
Seema brought Monty there. She learnt the truth she was a life insurance agent came there to do her work. Rajeev assures to give money to her when she created problems. Parineet noticed them together. Later Rajeev saved Neeti from accident.
In the upcoming episode viewers will see; Parineet will ask them to stop this drama. Why did Neeti kissing him in front of all? Neeti will tell her he is her husband Sanju what's wrong in it to kiss him?
Parineet will tell her he is not Sanju but her husband Rajeev. Parineet will demand Rajeev to reveal the truth. Rajeev will tell her Neeti saying the truth she is his wife.
What will happen next?
Will Parineet find out the truth?
When will Neeti caught Rajeev red handed?
Upcoming episode will answer to our all questions stay tune with our space for more updates.