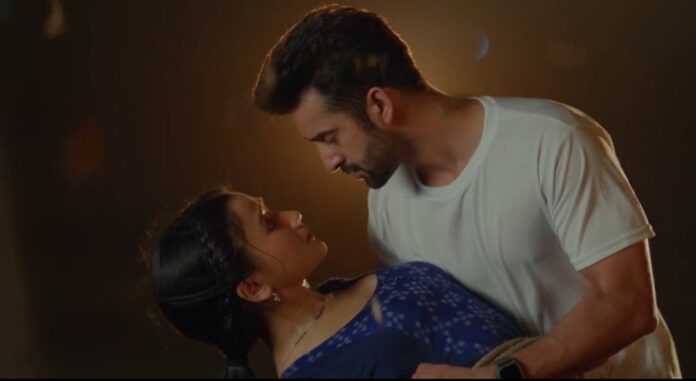 Rajjo Spoilers, Upcoming Story, Latest Gossip , Future Story, Latest News and Upcoming Twist on SerialGossip.in
Star Plus' daily soap, Rajjo, is gearing up for more drama with Arjun, Rajjo and Rajjo rescuing Urvashi. 
In the current story, it's seen that Rajjo imagines Arjun treating her wound. She becomes sad after coming back to reality. Rajjo sadly looks at the wound in her elbow and goes apart. Arjun notices this. Arjun goes to Rajjo and puts the bandage he got from his sister's room on Rajjo's wound.
He scolds Rajjo for risking her life and asks why she did it. Rajjo says that she did it for him. Arjun is surprised to hear this from Rajjo. But the latter changes this and says that she did for Arjun, his family and Urvashi. She doesn't want the kidnappers to escape.
Arjun views the video sent by the kidnappers. He notices Urvashi giving a hint about where she has been kept captive. He understands it and goes there with Rajjo, his family and the police. Rajjo spots the kidnappers' car and masked men entering a shop.
Rajjo notifies this to Arjun. They enter the shop and find Urvashi tied to a chair and the kidnappers sitting around her. On seeing them, the kidnappers try to escape. Arjun catches the head of the kidnappers and unmasks him.
Arjun and Rajjo are shocked to see Vicky. The latter says to Rajjo that he is sorry to disappoint her and assures her that he won't tell anything to the police. Arjun doubts that Rajjo is involved in Urvashi's kidnapping and questions her about what Vicky said to her. 
In the upcoming episode, it will be seen that Urvashi will accuse Rajjo of kidnapping her. Rajjo will say that Urvashi is lying. Urvashi and Rajjo will argue over this.
Arjun will shout, asking them to stop fighting. He will refuse to believe any of them as he is the one who got hurt most because of trusting people. He will ask both Urvashi and Rajjo to bring proof to prove their truth. 
Will Rajjo be able to prove her innocence and expose the real culprit?
Stay tuned to this space for the latest update on your favorite show.