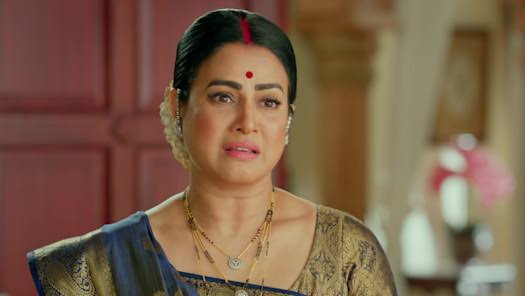 Rajjo Spoilers, Upcoming Story, Latest Gossip , Future Story, Latest News and Upcoming Twist on SerialGossip.in
Star Plus' popular daily soap, Rajjo, is gearing up for more drama, with Madhu framing Rajjo.
In the current story, it's seen that after hearing Madhu and Jhilmil's convention, Rajjo starts to believe that Niharika is also in their team and wants her to the mental asylum. She decides to lock Niharika in the storeroom, but she mistakenly locks Siya, which angers Chirag.
Chirag scolds Rajjo and asks her to stay away from Siya hereafter. Arjun also scolds Rajjo. To Rajjo's shock, Arjun declares that she needs to get treated. Madhu and Jhilmil smile that their plan worked. Later, Madhu and Jhilmil try to forcibly send Rajjo with the ward boys to the mental asylum.
But Arjun stops them and defends Rajjo. However, Arjun calmly explains to Rajjo that she has started to lose her mental balance ever since her mom left and was accusing Madhu, Jhilmil and now Niharika. He says that she crossed all the limits by locking Siya in the room.
He requests Rajjo to meet the psychiatrist. Rajjo gets dejected that Arjun also mistrusts her. Rajjo says to Arjun that he doesn't love her the way she loves him. She decides to leave as Arjun wants. She packs her back. She vows to find Manorama. She goes with the asylum staff. But on the way, she attacks them and escapes.
In the upcoming episode, it will be shown that Arjun will be finding Rajjo. Rajjo will enquire a lady about Manorama. The lady will take out a pair of shoes soaked with blood.
Rajjo will recognize those shoes as her mom's and will get shocked. Arjun will find Rajjo unconscious covered by dry leaves. He will try to wake her up. He will shout Rajjo.
What will happen next? Did Rajjo find out what happened to Manorama?
What happened to Rajjo? Who did this to her?
Stay tuned to this space for the latest update on your favorite show.