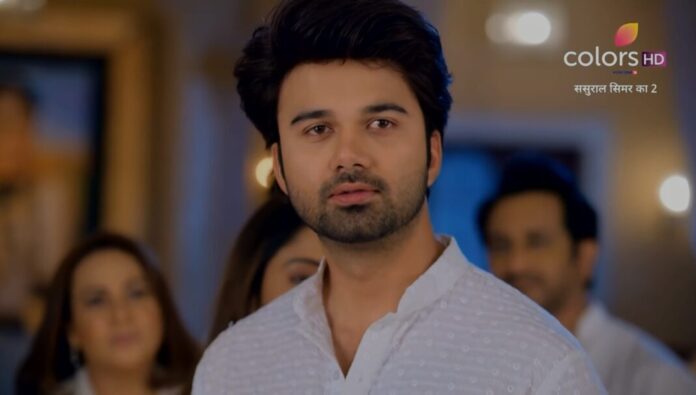 Sasural Simar Ka 2 Spoilers, Upcoming Story, Latest Gossip , Future Story, Latest News and Upcoming Twist on SerialGossip.in
Colours TV's popular Sasural Simar ka 2 show will show an interesting plot twist. A ugly statue has appeared in the house of Oswaal as Gajendra finds himself as guilt. He confesses that he has a daughter of himself whose name is Masumi.
Masumi arrives in the house of Oswaal. Her elder sister Gunjan also joins her as evil spirit and becomes the part of all the conspiracy. Later, their mother Charulata also arrive in Oswaals getting back her position.
Previously we have seen, Tara forcefully marry Aarav, but he is continuously asked to remember his past memories. At last when Aarav utters the nane of Simar hammering his head,
Simar becomes emotional and seems relieved to get back Aarav after many difficult days. Brahmin gets a signal from Simar and Aarav. Badima Geetanjali devi wets her eyes with tears and shows how grateful she is to Simar.
Brahmin notices that the two souls are entering in the two bodies of Aarav and Simar. In the next morning, all the family celebrate their happiness.
In the next episode, Aarav, a transformed snake, searches for milk everywhere, when he sees a milk bottle in the fridge, drinks the whole bottle.
He murmurs that he needs some blood of Simar, as this will fulfill his goal. In the next day, he with some filthy idea, collects a drop of blood of Simar and puts that blood drop on a crystal stone which starts glaring.
Aarav is being transformed in a venomous snake which is seen by Reema and runs to Simar. But later she is is attacked by Aarav and captivates her in his evil work.
Would Simar able to understand the motive of this venomous snake?
Keep following this space for more information about your favourite shows.