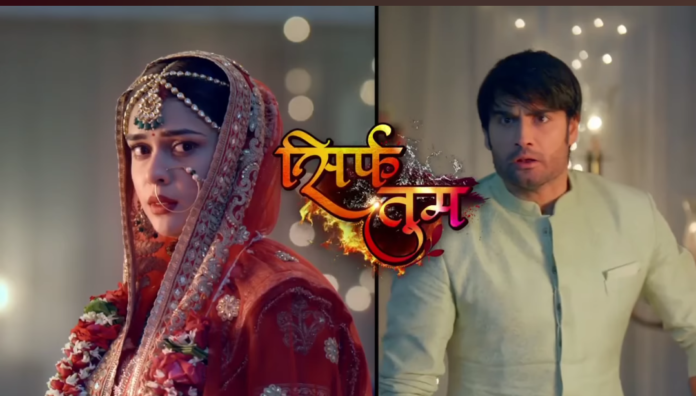 Sirf Tum 21st March 2022 Written Update on SerialGossip.in
The episode starts with Ansh calling Rakesh loudly. Ranveer says he won't leave until Suhani tells him the truth. Suhani tells Ranveer to leave and Rakesh notices him. Rakesh gets furious and tries to separate Ansh and Ranveer. Rakesh says if he won't go to college that doesn't mean he will barge into his house daily. Sudha requests Ranveer to leave Ansh as Rakesh is not well.
Rakesh coughs and evryone gets worried. Ranveer leaves Ansh's collar and Suhani lashes out at him saying if anything happens to her father because of him she won't forgive him ever. She says why Ranveer is behind her and her family. She says she is very happy with her in laws and he won't have to interfere in her family matters. Ranveer hears that and leaves.
Ansh reaches his home with Ansh and Suhani. Ansh sees a court notice where they are being asked to leave their house before 8 pm else they will be thrown out. Its Commission's notice. The officials come and warn Ansh to leave at once. Ansh says where will they go at late night with his family.
The officials throw the stuffs from the house. Ansh tries to stop them but in vain. Vikrant arrives by his car and Asha goes towards him. She asks him how can he make fun of their relationship like this. He gave her the house and now he is doing this to her. Vikrant mockingly says he came here to apologise to her. He says Ansh did wrong by revealing the truth to Ranveer and for that he will not spare Asha and Ansh. She cant get away with this. Asha feels helpless and Vikrant further says if she crosses her line again, he will throw her out of the city too.
Ansh asks Asha if that was Vikrant. Asha says Vikrant punished them as they revealed the truth to Ranveer. Ansh says now only Ranveer can help them. He says he will tell Suhani to call Ranveer and will ask for a shelter. Ansh tells Suhani to call Ranveer but she says she told him to leave then how can she take help from him. Ansh says he can't spend the whole night on road with his family.
Ranveer belongs to Oberoi family and he can help them easily. Ansh calls Ranveer but he doesn't pick up. Ranveer tells his friends to switch off the phone. Ansh asks Suhani to call and she calls Ranveer. Ranveer picks up and asks her if she is alright. Ansh talks to him that because of Vikrant they are homeless now and Suhani is suffering too. They need his help. The house is sealed.
Rakesh calls Suhani and invites her for Holi celebrations. Suhani doesnt tell him about the mishap as he will fall sick again. She agrees to attend the function and switches off her phone. Ranveer comes with a tempo and Suhani's dupatta falls on him due to wind. He covers her with the dupatta and she looks at him. He tells his friends to keep the luggage in the tempo. He says Suhani will go to Oberoi Mansion now. Suhani says she can't take such a huge favor from Ranveer. She will tell everything to Rakesh and he will understand. She will stay at her maternal home.
Asha says Suhani is right. Ansh says Rakesh is already unwell and they should not give him more stress and If anything bad happens they will be responsible. He takes Asha aside and Asha says Vikrant won't let them stay in his house so Ansh should not have any false hope that they will get their rights. Ansh says Asha should not underestimate him as he will snatch the rights from Ranveer soon. Asha will get everything what she never got.
Episode ends
Click to read