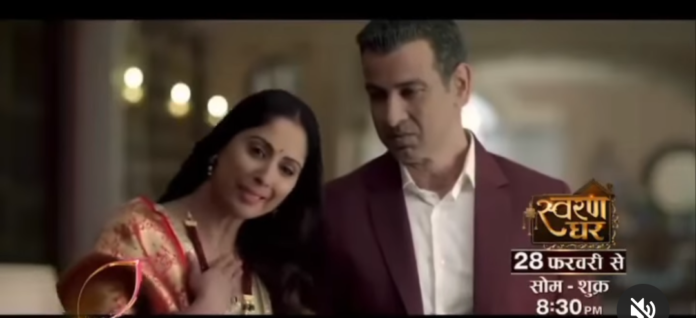 Swaran Ghar 18th August 2022 Written Update on SerialGossip.in
In today's episode, Swaran gets emotional seeing Nakul. Nakul touches Swaran's feet. Swaran hugs Nakul. She asks Nakul to wait and runs inside. Bebe meets Nakul. Swaran does Aarti of Nakul. Nakul sees the house of Swaran and Bebe. Nakul asks Swaran and Bebe why they are living at such a place. Bebe asks Nakul from where he got their address. Nakul says that he went to Swaran Ghar, none opened door, he met Neelima there who gave him this address. Nakul says that he doesn't know what happened to Swaran and Bebe, why they left Swaran Ghar. He says that he won't let Swaran and Bebe to stay in such condition.
He goes inside, packs Swaran and Bebe's luggage, also brings Kanwaljeet's photograph. He asks Swaran and Bebe to leave for Swaran Ghar immediately. Swaran says that she can't return to Swaran Ghar as Swaran Ghar doesn't belong to her anymore. She transferred it to Vikram and Nakul. Bebe tells Nakul how Vikram and Kiran cheated Swaran and snatched Swaran Ghar from her. Nakul gets shocked. Swaran says that Swaran Ghar was not only house for her it was her pride and self respect. She says that she will return that day when Swaran Ghar will become hers again and her 3 sons will have equal rights over it.
Nakul worries for Swaran and Bebe. He asks how can Swaran live and face the world alone. Gulabo comes there. She asks Swaran for her commision. Swaran transfers her the money. Gulabo leaves. Nakul asks Swaran what she has done just now. Swaran says that she did online transaction. Nakul gets astonished. Ajit comes there and tells Nakul that Swaran can do many wonders now like withdrawing cash from ATM, giving job interviews, driving car etc. Bebe asks Nakul to do one thing for Swaran i.e bringing Aarav for Janmashtami puja. Swaran asks Nakul to come with Aarav so that she can break her fast. Nakul promises to bring Aarav in the evening. Ajit says that he will drop Nakul.
Vikram opens door hearing the bell. Nakul comes inside and slaps Vikram. He questions Vikram for snatching Swaran Ghar and kicking Swaran and Bebe out. Vikram says that he didn't ask Swaran and Bebe to leave. They left wishfully. Nakul orders Vikram to bring the documents of Swaran Ghar immediately. Kiran tries to come in between. Nakul asks Kiran to shut up and asks her to have some shame. Kiran requests Nakul to come to their room as she has so much to share with him. Nakul gets convinced. Kiran tells Nakul that Ajit is a fraud. She calls some Sharmaji who says that Ajit has constructed his dhaba on someone else's plot illegally.
Kiran says that Ajit was trying to manipulate Swaran and acquire Swaran Ghar. She says that she and Vikram took Swaran Ghar in order to save it from Ajit. She gives Nakul Swaran Ghar's papers and asks him to tear it. Nakul gets confused. Kiran comes outside the room and informs Vikram and Nimmo about Nakul's change of heart. Ajit arrives at Swaran's place for Janmashtami puja. He and Bebe have a cute banter. Swaran starts the puja and sings a bhajan. Arjun arrives at Nayi Basti and hears the bhajan. Swaran finishes Aarti, turns and sees Arjun. Arjun takes Aarti. Ajit sees Arjun. The episode ends.
Precap : Ajit tells Arjun that a buisness man is trying to snatch his plot illegally. Arjun does not pay attention to his words as he notices that Swaran's dupatta is catching fire.
Click to read: