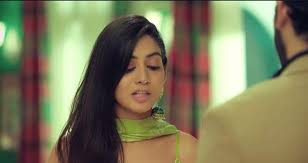 Yeh Jhuki Jhuki Si Nazar Spoilers, Upcoming Story, Latest Gossip , Future Story, Latest News and Upcoming Twist on SerialGossip.in
Star Plus popular daily soap, Yeh Jhuki Jhuki Si Nazar have managed to rise curiosity in the minds of people, with its twist and turns in the storyline.
In the earlier episode, Brij starts his new job of tutoring students inside his house. Mathurs gets happy for him and appreciates Dia for the idea. Whereas, Dia and Armaan tries to find the doctor who can help them to cure Brij's illness. Meanwhile, Saloni develops a friendship bond with Dia and both enjoys each other's company.
Here, Brij gets shocked when he finds about his terminal illness, while Palki denies to believe it. At that time Anju tells them the truth and tries to console Brij, but he falls unconscious due to the shock. They gets worried for him and calls Armaan for help.
Armaan beings a doctor and stabilizes Brij's health. He informs Dia while she also comes there being tensed for her father. She encourages her father to fight, while he gets determined. Meanwhile, Anju contacts Rocky to take loan from him in order to treat Brij.
Ahead, Rocky reveals his hidden motive behind helping Anju and determines to marry Palki by using Mathur's situation. He gives some money to Anju and ask her to lease her house, in order to get all the money. She agrees to him and sneaks back into her house.
Dia and Palki gets suspicious about their mother and confronts her, but she hides the matter from there and assures that everything is fine. Whereas, Saloni reveals her feelings for Armaan and thinks about telling her love to him.
Later, Dia assures Palki that they will be able to arrange the amount to cure their father and ask Palki not to worry. Whereas, Anju hears their conversation and re-think about her decision to lease the house. Meanwhile, Madhu taunts Dia for not caring about her in-laws, while the latter feels hurt.
Now in the upcoming episode, Rocky will assure to give more 20 lakhs to Anju and ask her to lease the house papers. Anju will deny to do it, while he gets furious and stops her from leaving. He will remind about the loan of 5 lakhs and reveals his wicked intention of marrying Palki. Anju will get shocked, while Armaan will come in between them to take a stand for Anju.
Will Armaan be able to help Anju?
Will Dia be able to arrange money for Brij's treatment?
It would be interesting to see what happens next on the show.
Stay tuned with us for more news, Spoilers and written updates of Yeh Jhuki Jhuki Si Nazar.