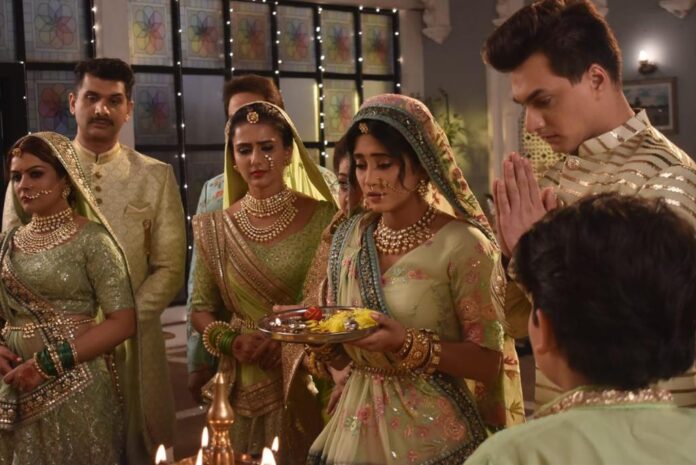 Yeh Rishta Kya Kehlata Hai 19th August 2021 Written Update on SerialGossip.in
Today's episode starts with Sirat helping Kartik by wiping dust from his eyes. Surekha sees Karitk and Sirat and think insipte of being man and wife why it seems they are still unfamiliar with each other. Sikander says to Kartik and Sirat that if they are done than he can leave. Kartik asks Sikander and Sirat to practice and he leaves. Sirat asks Sikander to tell his fee and she will pay him. Sikander says he is costly. Sirat says whatever he will demand, she will pay him. Sikander says he wants to see Nationals trophy in her hand and Mukesh's defeat will be his fee. He asks Sirat if she will be able to pay him. Sirat decides to fight back.
There, Kartik says sometimes he don't figure out what happens to him. Manish says he too think alike. He further says to Kartik that he will support him to bring out Ranveer's murder truth. Manish adds he will do only for Goenkas sake. He asks Kartik what is his next move. Kartik reveals Ranveer's doctor is back and they are going to meet him soon.
In the morning, Sirat says to Kartik that Kairav looks beautiful while sleeping. Kartik says all kids looks good while sleeping. He asks Sirat to get ready as they have to visit Ranveer's doctor. Sirat slip and Kartik catches her. Both shares an eye-lock. Surekha decides to investigate about Kartik and Sirat. She gets shocked seeing blanket and pillow on couch. She asks sleeping Kairav who sleeps on the bed and couch. Kairav reveals Kartik sleeps on couch and Sirat on floor and sometimes on bed. Surekha asks why, Kairav covers by saying because of him. Surekha doubts on Sirat and Kartik.
Afterwards, Sirat and Kartik meet Ranveer's doctor. Doctor tells to Kartik and Sirat that he will check who changed the report and assures he will help them. Sirat and Kartik feels now they can bring out the truth. Doctor call Narendra and tell him about Sirat and Kartik. He says his name shouldn't come. Narendra asks Doctor to leave the city soon. Doctor asks Narendra to meet him for one last time before he leaves.
Other side, Kairav makes painting for Akshu. Sirat and Kairav challenge Kartik to make painting. Kartik makes funny painting. Sirat, Kartik and Kairav spend time together. Suhasini and Surekha watches Sirat and Kartik. Suhasini gets happy.
Next day, Gayu prepares for Rakhshabandhan. Naksh refuses to visit Goenkas and says Kartik hidden his wedding truth thus he is upset with him. Sirat visit Naksh and Keerti and reveals to both that Kartik and she is not man and wife. [Episode Ends]
Precap: Sirat and Kartik missions to find Ranveer's death report.
Click to read