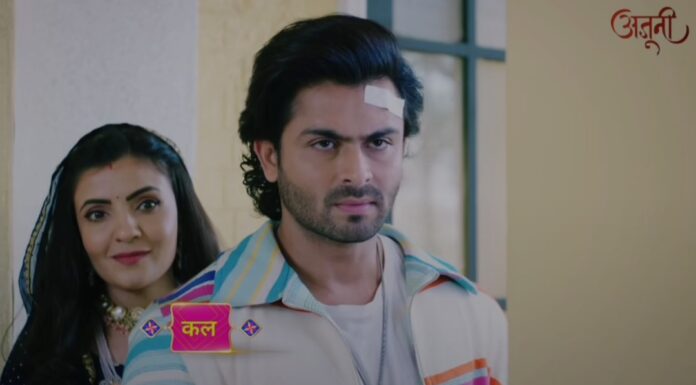 Episode begins with Rajveer tries to kill Ajooni. And Ajooni escapes from him. She goes to house temple. She asks God that why he is playing with her like this. She says that Rajveer want to kill her and she is not scared to die but she can't see hatred in Rajveer's eyes for her. Rajveer comes there and asks her that where she will run away now. She tells him that she won't run and he can kill her if that's what will give him peace then. She reminds him that she puts vermilion on his name. And she promises on vermilion that she never betrayed him and never loved anyone except him and can't love anyone in the future too.
He asks her to stop talking nonsense. He trips and she holds him. He looks at them in the mirror. He remembers their first meeting and everything. He regains his memory and asks Ajooni that what happened. She tells him about his memory loss. She says that Rajveer even tried to kill her. He drops the knife. And he apologizes to her. She tells him that it was not his mistake and he regained his memory and that's enough for her. She asks him that how it happened.
He tells her that he got kidnapped when he came out of the hospital and then Harsh attacked him. He says that Shikha took advantage of his memory loss and told him that Ajooni is having an affair with Harsh. And he won't spare Harsh. He reveals that servant is Harsh only. She tells him that they have to expose Shikha and Harsh. And she tells her plan to him. He nods at her and hugs her.
Harsh calls Shikha and tells her that he think Rajveer saw him and recognized him. Shikha tells him to return to farm house and kill Rajveer if the latter want to stay alive then. Ajooni and Rajveer sees Harsh. Harsh hears shooting sound and he tells Shikha that seems like Rajveer killed Ajooni. Shikha asks him to record everything. Rajveer puts unconscious Ajooni in the sack bag. And he buries the sack bag. Harsh records everything.
Shikha tells Harvinder that their good time started. She asks him to sit like king and gives sweet to him. She says that Harvinder will become heir of Baggas and he is lucky to get her. Harvinder asks her that if she become mad.
Sanky complains about Tejinder to servant. He says that he sent goons to kidnap Rajveer because Rajveer is their enemy. Tejinder comes there and tells him that they can't defeat Ravinder easily.
Next day, Aman tells Ravinder that Durga will send servant. Rajveer comes there. Ravinder asks Rajveer about Ajooni. Rajveer lies to him that he dropped Ajooni in her house.
Episode ends.
Precap – Disguises Ajooni enters the Bagga house as servant Kamli. She claims that Durga sent her.