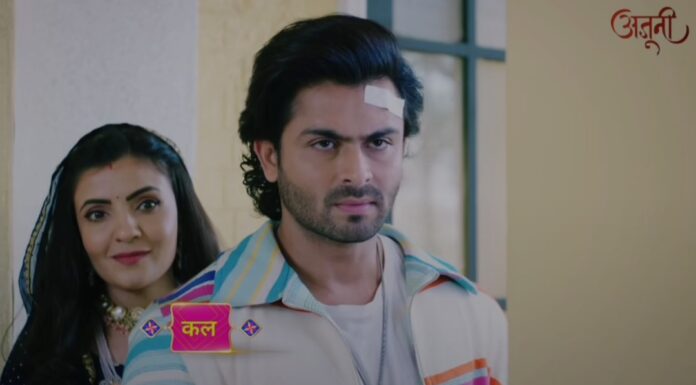 Episode begins with Ajooni gives lemonade to Rajveer. She informs him that everyone will have dinner together today and leaves from there. Rajveer breaks the glass. Shikha tells him to stop Harsh and Ajooni before they does something else. Rajveer tells her that he know what he has to do with Ajooni. Next day, Rajveer shows their photo to Ajooni and tells her that they are looking so happy in that photo. He says that that photo proves that they love each other so much. He tells her that she love him so much so he trust her now. He apologizes to her for suspecting her.
Ajooni asks him to not apologize. He promises to not suspect her again and listen her always. She hugs him. He takes the knife out and stabs Ajooni. She loses her consciousness. And it turns out to be Rajveer's dream. Ajooni breaks the hug and asks her that what happened. He hides his real intention from her. He tells her that they should go out because she won his trust. He says that he want to spend alone time with her. He asks her to start the packing. She nods at him. He leaves the room.
Rajveer asks permission from Ravinder to go out with Ajooni. Ravinder asks him that if it's necessary to go out. Rajveer says that his mind is not working in the house so he want change. Bebe tells him that his life in danger. Rajveer tells her that no one will get to know where he and Ajooni are going except family members. Ravinder suggests him to go to their farm house. He says that he will arrange everything. Rajveer goes inside.
Shikha takes Harvinder inside the house. She tells him that they should go to farm house to kill Rajveer and Ajooni. And they won't get a better chance than this. Harvinder nods at her. They leaves from there.
Ajooni prays to God for Rajveer's memories. Rajveer thinks that Ajooni has to die in the farm house. Ravinder gives farm house address to Rajveer. Bebe asks Rajveer to not talk to strangers. Ravinder tells Ajooni to take care of Rajveer. Rajveer and Ajooni takes elders blessings and they leaves the house.
Harvinder tells Ravinder that he and Shikha are going to Shikha's house. Ravinder tells him that Shikha's parents are not in the city. He says that only he know where Rajveer and Ajooni went. He takes Harvinder with them. Shikha thinks that Ravinder ruined her plan. She gets an idea.
Outside the house, Harsh gives prasad to Ajooni and Rajveer. Rajveer coughs after eating prasad. Harsh reveals that there was poison in the prasad. And everything turns out to be Rajveer's dream. Rajveer and Ajooni reaches the farm house. Servant shows house to them. Ajooni tells Rajveer that she planned a surprise for him.
Episode ends.
Precap – Ajooni cooks food. Servant mixes something in the kheer.