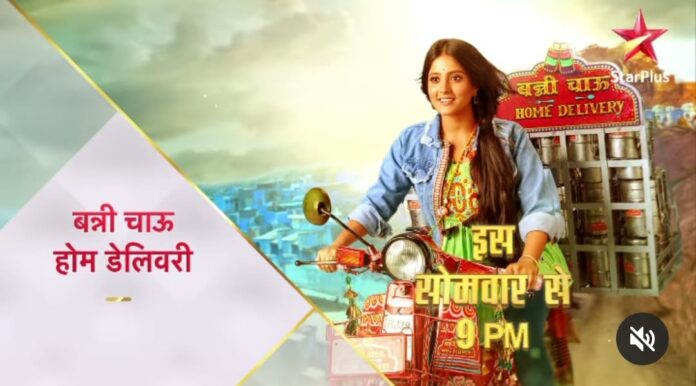 Banni Chow Home Delivery 30th October 2022 Written Update on SerialGossip.in
The episode starts with Agastya asking Banni about what happened to Yuvan after his surgery. Banni shares with Agastya how she feels with the new Yuvan who is different after the surgery. Banni says this new Yuvan is now even teasing her. Hearing what Banni says about Yuvan, Agastya feels bad as she couldn't see in his eyes what she is seeing in Yuvan's eyes. Banni says she wants to tell Yuvan what is in her heart and asks Agastya for his help. Agastya agrees to help Banni. Banni tells Agastya what to do.
The anchor calls Yuvan on stage. The anchor asks Yuvan how is he? Yuvan says he is fine. The anchor says to the audience that Yuvan has returned from a major surgery. The anchor says he is going a sing a song as a pair with another singer and introduces Tulika Anand who is a neurologist by profession and amateur singer as a wild card entry. Tulika Anand enters the stage. Tulika sees Yuvan and thinks he is Kabir. Tulika says she doesn't know he is a singer and says she doesn't watch this show. When they are singing a duet Banni sees that Tulika has a ring on her thumb finger just like the one she gave to Yuvan. Banni recalls giving the ring to Yuvan. After the duet, Yuvan looks for Banni. Tulika comes and asks Yuvan she didn't know he was such a good singer? Yuvan says she is also a good singer. Tulika asks Yuvan about what he said the last time they met? Yuvan doesn't understand what she is talking about. The staff of rocking star comes and interrupts them saying the media wants bites. Yuvan agrees and goes with the staff.
Banni comes into Yuvan's dressing room. Banni sees Yuvan getting dressed. Banni apologises to Yuvan and tries to leave. Yuvan asks Banni to stop and asks her to come back. Banni comes back with her eyes closed. Yuvan teases Banni. Banni opens her eyes and sees that nothing happened to Yuvan. Yuvan says she is teasing her. Yuvan says to Banni that he is hungry. Banni serves food for Yuvan. Banni asks Yuvan how did Tulika get the ring that he lost. Yuvan says to Banni that he gave it to her. Banni gets jealous hearing this. Yuvan asks Banni what is she thinking about? Banni talks in anger about Yuvan and Tulika. Yuvan sees Banni and teases her. Yuvan says he is just teasing her and says Tulika might have a ring just like that. Yuvan says to Banni that she wants to share something with her. Banni agrees. Tulika thanks Agastya for giving her a chance. Agastya says she is talented that's why he gave her a chance. Tulika asks Agastya if Yuvan has another name. Agastya says no.
The rocking star staff comes and interrupts Yuvan and Banni's moment saying the media wants to talk to him. Yuvan agrees and goes with the staff. Tulika apologises to the hospital superiors saying she already applied for the leave. The superior says you applied but I did not grant it and says she will be suspended for her behavior.
Yuvan sees Tulika who is crying to herself after the phone call. Yuvan gets a head ache and changes into Kabir. Kabir comes and asks Tulika who is the one that made her cry? Kabir says he will show who he is to the one who hurt her and says he will tell them what she is to him. Tulika hearing this hugs Kabir. Agastya sees Yuvan and Tulika hugging each other.
Episode ends.
Precap – Banni to get a call from reporter that he wants to interview Yuvan and says he will come to Bulleshah fort at 5 pm. Banni hearing what the reporter said thinks what is Yuvan doing in Bulleshah. Kabir and Tulika to have dinner at Bulleshah fort. Yuvan says to Tulika that he loves her and asks Tulika for a chance to allow him to come into her life. Banni sees Yuvan and Tulika hugging each other.
Click to read