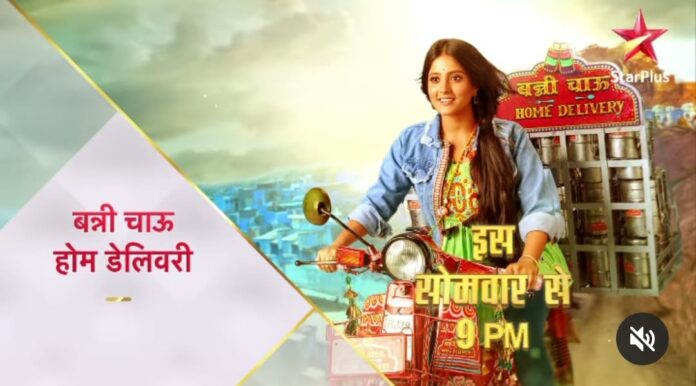 Banni Chow Home Delivery Spoilers, Upcoming Story, Latest Gossip , Future Story, Latest News and Upcoming Twist on SerialGossip.in
StarPlus TV new show Banni Chow Home Delivery serial is witnessing some major turning points where Manini devises an evil plan against Banni.
As reported earlier, Banni and Yuvan see everyone outside the room. Manini asks them to know why Banni came to their house in the nighttime. Banni says he is suffering from a toothache that's why I brought medicine to him, he is locked in the room and that's why I came to help him and to take my phone which I forgot here. Manini humiliates Banni by pointing at her Mom brought up. Banni warns her saying she can't bear anything against her mom anymore. Manini asks who said about her. Devraj says no one likes to listen against their mother. Banni leaves. Yuvan and Devraj apologise to Banni.
Banni asks them to not apologise and tells them that she needs to leave as temple people asked her to prepare Bhogh for God. Yuvan asks Banni to take him to the temple. Devraj asks her to take him. Banni agrees.
The next day Viraj gives info to Manini that Banni takes Yuvan to the temple. Manini says Niyati feeling insecure with Banni that's why I decided to remove Banni from her way otherwise I won't care about Bann. Yuvan lifts Banni to ring the bell. She asks him to never touch her. Yuvan agrees.
Ladies leave the prasad saying they can't eat prasad from Bachallan lady's daughter. Banni feels hurt. Yuvan makes her smile with his act.
In the upcoming episode, viewers going to witness Manini Goons will attack Banni and she will collapse on the floor. Yuvan will try to wake her up and stops passing by cab. Manini will say Banni and Yuvan won't reach home and are heading to Ranakpur which is far from here so Niyati will take over Banni now.
The cab driver will take Banni and Yuvan to Ranakpur.
Will Manini get successful in her plan?
Can Banni prove her innocence?
All these questions will be answered in the upcoming episodes.
To know what will happen next in your favorite show, keep checking this space for new and exclusive updates.