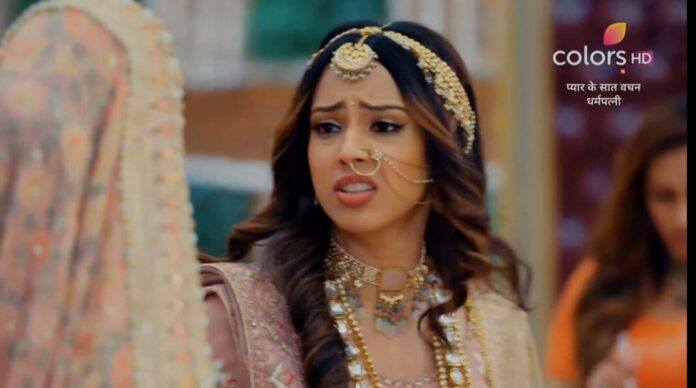 || Dharam Patni Spoilers, Upcoming Story, Latest Gossip , Future Story, Latest News and Upcoming Twist on SerialGossip.in
Colors TV's popular show Dharam Patni is a love hate story of a simple sweet school teacher Pratiksha Parekh and a buisness tycoon Ravi Randhawa.
How two different people of different social status and background will come together due to marriage and fall in love eventually will be interesting to watch.
In the previous episode, Beeji insults Kavya for insulting Pratiksha. Mandeep tells her not to insult her daughter-in-law-to-be. Beeji says that Kavya is already talking badly about her son's wife. Mandeep says she is not happy to have Pratiksha as her daughter-in-law.
Beeji says the same thing about Mandeep. Amaira asks Beeji if she can't see Kavya's pain. Beeji tells her to look at how sad Pratiksha is. She says that if Ravi leaves her now, she will suffer for the rest of her life.
She decides to do Pratiksha's grahpravesh ritual even though everyone tells her not to. Kavya says that if Ravi comes into the house with Pratiksha, she will kill herself.
The grahpravesh ceremony for Pratiksha and Ravi is done by Beeji. Malhar says that he will teach Ravi a lesson and get Pratiksha back.
Kavya heads for the kitchen. She's sad, so she cries her eyes out. She wants to kill herself. She finds a knife and tries to cut her veins. Pratiksha thinks that she will give the marriage her all and show Ravi that she is the best dharam patni she can be.
In the upcoming episode, Kavya tells Randhawas that she can't see Ravi with Pratiksha, she will kill herself.
Ravi tells her to stop making threats because no one cares. Kavya trips on the stairs and falls.
To know what happens next stay tuned to Dharam Patni on Colors TV/Voot app and this space.