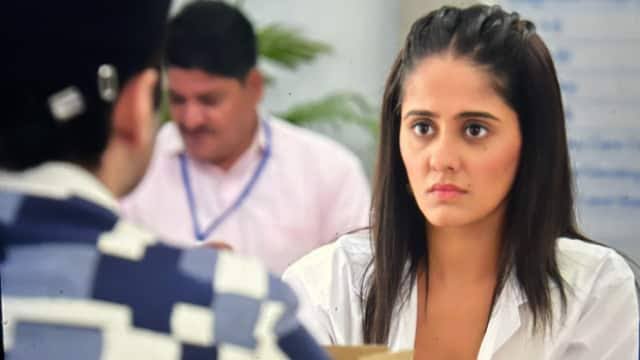 Ghum Hai Kisikey Pyaar MeiinSpoilers, Upcoming Story, Latest Gossip , Future Story, Latest News and Upcoming Twist on SerialGossip.in
StarPlus TV popular show Ghum Hai Kisikey Pyaar Meiin serial is witnessing some major turning points where Sai apologises to Virat.
As reported earlier, Sai returns home. She sees Pakhi going to office. She tells Pakhi that she will leave the house if she gives her Vinu to her.
Pakhi says I know your ganes, you can do what you can do but I won't let you take my husband or son. Sai says I will take Vinu with me and you can do what you want to stop me.
Virat messages Pakhi that they are wife and husband and they can solve their problems by talking to each other and he requests her to call him.
Pakhi reads the message on way and keeps her cell aside. Savi and Vinu call Virat and Virat helps them to hang the nameplate. Sai comes there. Vinu tells her they rearranged the broken nameplate beautifully. Sai asks how it's broken.
Virat says kids joined it so it doesn't matter how it broke. He asks them to see the room. Sai sees the room and feels happy seeing her father's photo. Savi asks why he didn't put his photo. Virat says he doesn't want to give the wrong idea to anyone.
Vinayak takes out Savi with him. Sai understands she hurts him. Sai thanks Virat for decorating their room and apologizes to him for her behavior with him in the morning.
At the dining table, Bhavani asks Virat to handle Pakhi and sort out everything otherwise I will oust Pakhi from this house. Ashwini reminds her Pakhi is their daughter-in-law.
Bhavani says she is behaving like an enemy. Virat says he will set everything. Savi comes there and asks Virat to take her to the police station to observe him for hee project. Virat agrees. Vinu comes there wearing Doctor's coat. Virat says Vinu is looking good.
Vinu says he is confused about his project. Virat asks him to observe Sai and others going to her hospital. Sai agrees to take Vinu. Vinu feels happy. The next day, Vinayak and Sai reach the hospital. The nurse asks Sai about Vinu. Sai says he is a junior doctor. The nurse says these days they are getting handsome doctors.
Sai gives her a look then she leaves. Vinu asks who's another handsome one apart from him. Sai says you're the one.
In the upcoming episode, viewers are going to witness Virat requests Pakhi to not snatch his happiness. He says let it happens how it's going on. Pakhi asks if he won't tell Sai to leave from the house.
Virat says yes, I want Savi to stay with me. Pakhi says fine, I won't tell you to do it. Virat thanks her. He hugs her in happiness. Sai is about to fall but Satya holds her. Sai asks him to leave. He leaves her and she falls on the floor.
Will Virat understand Pakhi's pain?
Will Satya bring change in Sai's life?
All these questions will be answered in the upcoming episodes.
To know what will happen next in your favorite show, keep checking this space for new and exclusive updates.