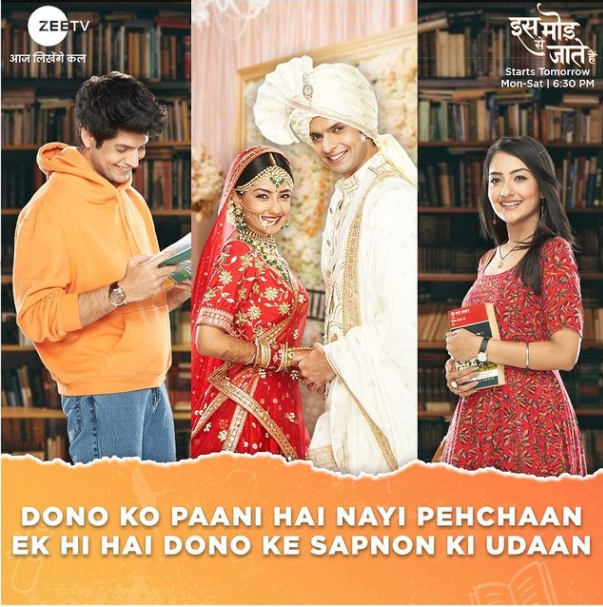 Iss Mod Se Jaate Hain 24th February 2022 Written Update on SerialGossip.in
Episode begins with Abhay informs Sanjay that Vinod and Sushma fighting over Ashi's marriage. Paragi tells Sanjay that she don't want to upset Sushma more so he should go. Sushma tauntingly says that if Vinod is mature then he should take responsibility for Ashi's marriage, because Sanjay settled with Paragi and the latter is happy with his new daughter. She says that if no one needs her then she will go to her mother's home which shocks everyone. Vinod tells her that she want to drag the issue so he decided to back off. He says that he cares about his daughter's marriage and goes inside.
Sanjay consoles the crying Sushma. He tells her that he also cares about his sister and he want a guy who can accept Ashi the way she is. He informs her that he and Vinod even met few guys for Ashi. He tells her that Ashi's marriage will happen with the right guy. He asks her to smile and goes to the kitchen to bring her favorite cold coffee. Paragi overhears their conversation and tells herself that Sanjay handled Sushma very well and he does many things for her too.
Next day, Paragi prepares breakfast and tells Sushma that she won't disappoint her again. Everyone gathers to have breakfast. Baby and Sushma says that they are fasting today. They hears Paragi's car siren sound. Sanjay asks Paragi to get ready to leave for office. Paragi is about to cut fruits but Sushma stops her saying that she knows to handle the family so the latter should leave for office. Sanjay says that he will cut fruits. He gives bag, mobile and watch to Paragi. Sushma recalls that how Sanjay opened the car door for Paragi. She asks Paragi to come home from the office on time for puja. Paragi tells her that she will try and leaves from there.
Sanjay asks Ashi that what is her opinion about her marriage. She tells him that she is ready for marriage but she don't want to marry anyone just like that. She says that she want to fall for the guy who will love her the way she is. He tells her that it may take time but they will find the right guy for her. He says that she don't have any flaw but she is very special. Sushma overhears their conversation and smiles.
On the other hand, Arun informs Paragi that today factory is closed. She tells him that something is fishy so they will come tomorrow with permission letter. Factory owners Prem and his son Akshay discuss that they has to bring these officers on their side. They meets Aryan Batra and gives bribe to him. Aryan goes inside without telling anything. Akshay tells Prem that it looks like Aryan is a honest officer so they has to do something else to save their factory. Aryan scolds Paragi for not visiting the company with permission letter.
Later, Akshay visits Sanjay's home with his parents. He apologizes to Sanjay for not attending the marriage. He asks him about the latter's wife. Pramod says that she is in the office so they has to wait. Paragi enters the home with sweet boxes. Prem and Akshay recalls seeing Paragi with Aryan. Sanjay introduces Paragi to guests.
Episode ends.
Click to read