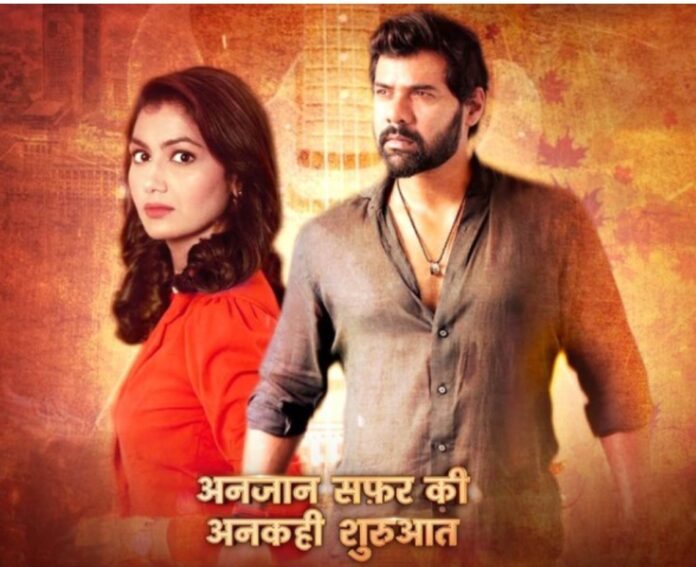 KumKum Bhagya 17th January 2022 Written Update on SerialGossip.in
The episode starts with Prachi apologizing her baby for stressing her and she promises to baby that she won't let anything wrong happen to her and she decides to punish family members who deceived her and it's enough as I won't let them play with me and they exploited the relations for their selfish motives and I won't leave them. Jai calls the Receptionist and asks her to inform Ranbir that he called him when he checked in then he messages Ranbir too. Ranbir calls Jai. Jai asks why he is not answering Shahana and his calls. Ranbir asks what happened. Jai says Prachi got arrested. Ranbir gets shocked and asks how it happened. Jai tells him everything. Ranbir asks him to book his return ticket. Jai says you have a meeting. Ranbir says nothing is important than Prachi.
Shahana informs Prachi that Ranbir went to London. Prachi scolds her for contacting Ranbir. Shahana says I didn't take his help but I need your permission to contact the person who can save you. Prachi says you're talking about Badi maa. Shahana nods yes. Prachi says she is already borne so much for me and my Mom so I don't want to give her any stress. Conestable asks Shahana to leave but she asks her to give her some time but they deny. Shahana offers to bribe them then they lock her in the same cell. Shahana hugs her saying she is her real sister. Prachi hugs her.
Rhea gets angry recalling Prachi's warning. Aliya comes there and asks why she looks angry. Rhea says Prachi left saying this house and room belong to her. Aliya asks her to not think about Prachi. Rhea says Prachi is everywhere as she left her things so I will burn them now itself to celebrate Lohri and she leaves. Aliya follows her. Neeti goes to inform to Pallavi.
Jai informs Ranbir that he booked next morning flight. Ranbir waits to return to India to help Prachi. Rhea throws Prachi things at one place. Aliya says I'm feeling proud of you. Rhea says you managed everything and hotel plan got successful because of you. Aliya tells I can do anything for you and it's not a big deal to put an unconscious Prachi and Sidharth on the bed. Rhea asks how she got similar people like them as Ranbir got fooled too and it was happened because of you and I thought it's tough to separate them but I got hope seeing Pallavi aunty hate for Prachi. Aliya says Ranbir's heart still beats for Prachi. Rhea says I do get tensed seeing them but now equations have changed and he is not supporting her and very soon their connection will be broken, Prachi is out because of her own mistake. Aliya says let's not talk about Sid and Prachi and I need to give money to people who entered in hotel registration, she turns and they get shocked seeing Pallavi.
Ranbir calls the police station and he requests Inspector to make him talk with Prachi but the inspector disconnects the call by scolding him. Shahana asks if it's Ranbir's call. Prachi sees her. Shahana says I think like you only as we are the same, she asks Inspector to answer. He tells it's wrong number. Prachi says Ranbir can't do anything and tomorrow we have to leave jail by doing something. Shahana says Ranbir is not bad. Prachi says he is bad and I never dreamt that I will marry a person whom I hate so much and I love this Lohri and will celebrate it outside and I won't let Rhea spoil it. Pallavi asks why they are seeing her in this way. Aliya says nothing. Pallavi asks why she removed Prachi things. Rhea says I don't want her things in our home so I want to burn them. Pallavi asks Aliya why she is not stopping her. Rhea asks what to understand. Pallavi says Prachi will reenter as she went from the house, not from our lives. Rhea gets shocked.
Episode ends.
Click to read