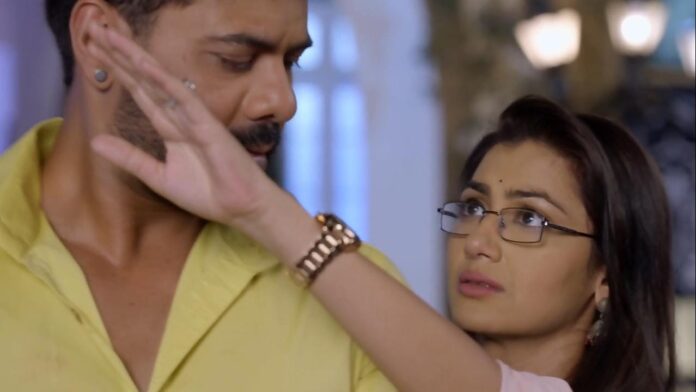 Kumkum Bhagya Upcoming Story, Spoilers, Latest News, Gossips, Twist On SerialGossip.in
Episode starts with Hitman asks Abhi to apologize to him holding his ears. Pragya says no still Abhi holds his ears. Hitman says why are you listening to your wife what's In her. Abhi asks him to kill him and request to leave his wife. Pragya says let's die together don't beg him and you can save me not Killer. Abhi goes to back seat holding Pragya hand. Hitman goes to his jeep to hit them again. Pragya asks to save himself for their kids. Abhi denies saying he can't live with out her and Abhi makes Pragya comes to back and he notices car is about to fell down and they jumps from it.
Hitman sees car blast in the valley and feels happy than he notices Abhi and Pragya gets saved holding branch of tree. Pragya gets scared but Abhi assures her saying nothing will happen to them. Hitman cuts tree branch to make them fall in valley. Abhi asks Pragya to tell how much she loves her. Pragya says I love you so much. Abhi says don't cry, we can be together in sky too. Hitman cuts the branch and they fell in valley. Hitman calls Digvijay and informs him that work is done and asks him to come and witness it. Digvijay thinks finally his revenge is completed.
Dadi sees Black cat crossing the road and asks Purab to stop the car and says it's giving wrong signs. Purab says we have to go to search them. Saritha assures nothing will happen to Abhi and Pragya. Purab starts the car.
Hitman can't see their bodies. Digvijay reaches to Hitman place and asks him to show bodies. Hitman shows their car. Digvijay says I gave you contract to kill Abhi not car, get the proof that Abhi is dead than you will get full payment and you will get double payment if you get proof that his wife also dead. Hitman goes in Jeep to get the dead bodies photos.
Abhi gains conscious and cries seeing Unconscious Pragya and asks Pragya to wakeup saying she can't leave him alone. Pragya wakes up and both gets emotional saying they can't live without eachother. Hitman sees Snake questions Snake why he killed their Varsha. Both fights with eachother. Abhi and Pragya runs from that place.
Digvijay calls Hitman but he won't attend it. Digvijay sees Abhi and Pragya running away when Hitman is killing Snake through binocular. Hitman calls Digvijay and Digvijay tells him Abhi and Pragya are alive and running. Hitman assures to finish the work. Digvijay asks driver to take him to the downstairs of valley so he can kill the Abhi. Abhi and Pragya runs to roadside hearing vehicle side and notices Purab vehicle is moving and they about to call Purab but stops seeing Hitman call behind him. Pragya asks why he didn't stopped the Purab car. Abhi says he can't risk Dadi and others life. Abhi romances with Pragya and she tells him she wants water. Abhi takes her to river side, makes her have water. Pragya to makes him have water to kill his hunger. Abhi says he full and did you notice we are nothing without eachother.