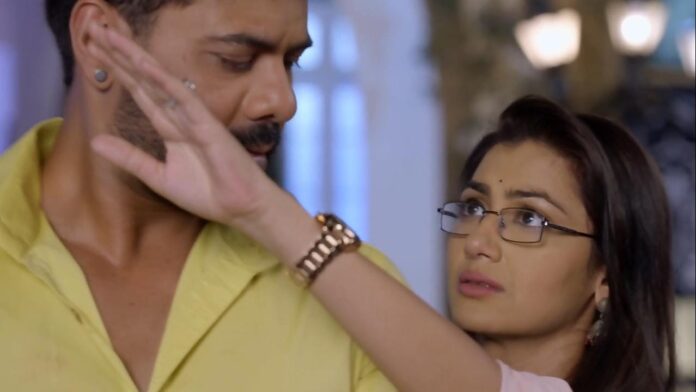 Kumkum Bhagya Upcoming Story, Spoilers, Latest News, Gossips, Twist On SerialGossip.in
Episode starts with Ranbir stops Prachi holding her hand. Prachi says leave my hand because you don't have any right and only Parth have right on me. Ranbir says so you and Parth. Prachi says you're speaking truth, Parth and I love eachother and I want to marry him. Ranbir gets angry and beats wall saying stop because I know you're doing it intentionally. Prachi says youre mistaken, I already told you without hiding anything that I just need money and bungalows. Ranbir says you're hiding my love. Prachi says I didn't hide anything and I already told you that I just loved your properties not you when your parents are against our relation that I realised that youre nothing without your parents that's why I choose Parth. Ranbir asks can she really live happy with Parth. Prachi says didn't you saw my happiness in MMS.
Ranbir says you're doing it for Rhea right. Prachi says Shahana likes our pair that's why she lied to you that I'm doing this for Rhea. Ranbir says I'm dead sure that Rhea is behind everything. Rhea overhears their fight. Prachi says I love Parth not you. Ranbir angrily punches the wall and leaves from that place. Prachi calls Rhea out and says I know you made this fake mms with help of Parth, hope god won't give your type of sister to anyone.
Aliya says Gayathri is handling Abhi really well and it's surprising. Mitali says I feel she worked in some mental hospital. Tanu says maybe it's because of her costumes. Mitali goes to attend her work. Aliya says than go to Bhai wearing Gayathri kind of dress than you can increase your bond with Bhai. Tanu says good idea and she goes to implement it.
Rhea says mind your language. Prachi says I never think you stoop this low to circulate my fake mms in whole college and I broke Ranbir heart completely hope you're happy. Rhea says I want you to get out of Ranbir's heart. Prachi says very soon you will get it and he will becomes yours.
Pragya asks Abhi to change his dress. Abhi goes than Pragya checks his paintings. Abhi asks how you feel seeing them. Pragya says good. Abhi shows everyone's painting to her than he asks can he call her fuggi? Pragya looks shocked and gets tears. Abhi asks what happened, why are you crying. Pragya says I felt happy with that name. Abhi smiles. Pragya reminsces their past moments and says don't call me fuggi Infront of others, let it be secret between us. Abhi agrees. Mitali enters the room and asks why you always lock room from inside. Pragya thinks elachi ended and they may caught me with voice. Aliya enters and asks what happened. Mitali tells Aliya about her suspicion on Gayathri.
Ranbir goes to hospital with bouquet and he sees Prachi in Parth ward. Ranbir says he is surprised seeing her with Parth. Prachi says I'm here to take care of Parth and why are you here. Ranbir says I came here to tell him get well soon. Prachi asks Parth to file complaint against Ranbir. Parth says let's give him another chance.
Mitali asks Gayathri to speak. Abhi gets angry and throws Stick saying don't talk in this way with Gayathri. Aliya about to hit Abhi but Pragya stops her. Mitali says how dare you to stop Aliya. Aliya asks Gayathri to come out. Pragya tells to Abhi that don't get scared, I will come back after talking with them.
Ranbir says why so much care for Parth? Prachi says she cares for him. Ranbir says let it be but if he again circulate any MMS than I will kill him for sure and he gives bouquets to Prachi, she gets hurt with thorn. Ranbir says I made him kept so many thorns so people who hurt me will know the pain. Parth says let's forget everything. Ranbir says something's can't be forgotten and complain to Police like Prachi said and he leaves from room.