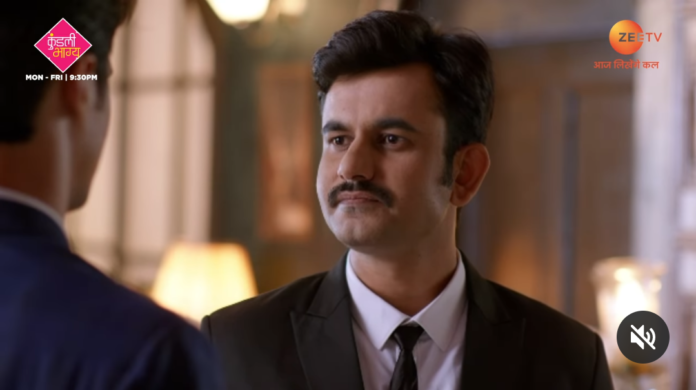 Kundali Bhagya Spoilers, Upcoming Story, Latest Gossip , Future Story, Latest News and Upcoming Twist on SerialGossip.in
Shraddha Arya and Dheeraj Dhoopar starrer Kundali Bhagya is one of the top Zee TV show. It has been around for a long time now and it was an audience favorite at all times. Now, Pandit Vashishth informs Luthras that Karan is alive so it will be interesting to watch that what going to happen in the future episodes.
Earlier it's seen that, Arjun got engaged to Nidhi. Mayank informed Arjun everything which happened in the auction. Arjun scolded him and fired him. Mayank praised Rishabh's business tactics. Arjun told him that he is coming to India to close the deal which is going to happen in the coming Friday. He booked flight for India.
Nidhi told him that he can't leave and she don't want her this marriage too become bad memory. He told her that he will return in a week. He convinced her and hugged her. He saw Rishabh's file and saw Preeta's photo too. He reached India and met with an accident. Meanwhile, Preeta felt like something bad happened. She searched Kavya and found her playing with Girish. She wondered that why she is feeling restless still.
Arjun's staff Manish admitted Arjun in the hospital and he informed about Arjun's accident to Mayank. Mayank informed Anjali about Arjun's accident. Anjali who was in India left for the hospital.
Rakhi kept a puja in the house. She learnt about Pandit Vashishth's arrival and she informed about it to her family. She added that everything happens the way he says and he is strict too. Pandit Vashishth entered the house and he asked Rakhi about her son.
In the upcoming episode, Pandit Vashishth will tell Luthras that Karan is still alive. Luthras will be shocked hearing him. Other side, Arjun will wake up and scream Preeta's name.
Did Karan is alive? Who is Arjun? Why Arjun screaming Preeta's name?
All these questions will be answered in the upcoming episodes.
To know what will happen next in your favorite show Kundali Bhagya, stay tuned to this space.